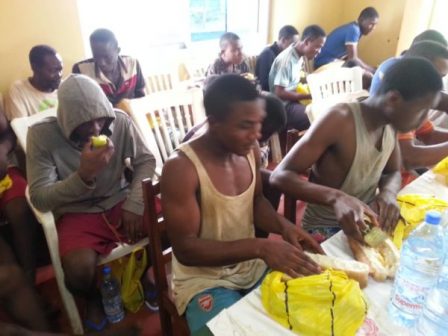 Ninety Cameroonian students kidnapped from Presbyterian Secondary School, Nkwen Bamenda in the country's Anglophone region have been freed after a military operation, the defence ministry said Wednesday.
Armed separatist militants on Monday stormed the school in the capital of the Northwest Region, seizing 79 schoolboys and three adults, prompting urgent calls for their release.
When the group was freed on Wednesday, it turned out there were another 11 pupils with them, who had been abducted from the same school five days earlier.
The Presbyterian Church which runs the school said the 11 had been taken on October 31 but the news was kept secret to enable negotiations with the kidnappers.
It was the first mass kidnapping to hit Cameroon and one of the gravest incidents in 13 months of pro-independence violence.
The students and three adults were freed in a military operation which began "in the early hours of the morning" on Wednesday, Defence Minister Joseph Beti Assomo said in a statement.
"When they have been checked by the (military's) psychological unit and have undergone a thorough medical check, the freed pupils will be soon sent back to their families," he added.
A six-minute video seen by AFP on Monday showed 11 boys aged about 15 identifying their school and saying they were abducted by the "Amba Boys" — a name for anglophone separatists.
A source close to the establishment said Wednesday these were the 11 who had been snatched on October 31.
The attack targeted pupils and staff at the Presbyterian Secondary School in the Northwest Region — one of two areas where surging anglophone separatist militancy has been met with a brutal crackdown by authorities.
The chain of events leading up to their release was not immediately clear, nor was the identity of the kidnappers.
Communications Minister Issa Bakary Tchiroma said "all 79 students" had "been released", while the Presbyterian Church separately announced news about the other 11.
It said the school would remain closed "until further notice".
On Tuesday, Reverend Foki Samuel Forba, a leading member of the church, said he had been negotiating with the kidnappers, who were not demanding a ransom but the closure of the school.
The kidnappings took place a day before Cameroon's 85-year-old President Paul Biya was sworn in for a seventh term in office, and coincided with an upsurge of tension in the majority French-speaking country.
Such mass kidnappings were previously unknown in Cameroon, although they are notorious in neighbouring Nigeria where Islamist Boko Haram militants snatched more than 200 Nigerian schoolgirls from Chibok in April 2014.
So far, 107 have been found or released but the jihadists abducted scores more from neighbouring Yobe state in February this year.
Cameroon's Biya on Tuesday promised to address "frustrations and aspirations" in English-speaking regions in his first public acknowledgement of resentments in the Northwest and Southwest Regions.
In 2016, anger at perceived discrimination in education, the judiciary and the economy fanned demands for autonomy there.

Load more