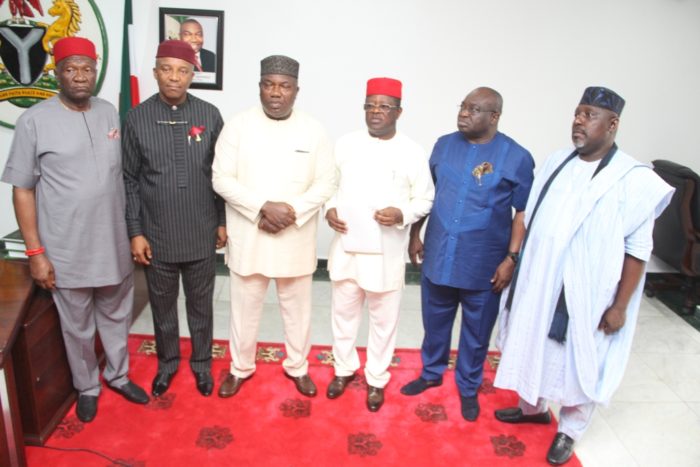 The South-East Governors' Forum has called for thorough and unbiased investigation on alleged attempted assassination of Deputy President of the Senate, Chief Ike Ekweremadu.
The forum also rejected what it described as "hasty conclusion'' by the investigating security agency that the attack was a case of burglary.
Director-General of the forum, Prof. Simon Ortuanya, made the call on Wednesday in Enugu while briefing newsmen on the governors' position on the issue.
Ortuanya said that the careful and methodical execution of the plot as reported pointed to something more sinister than burglary.
According to him, if the mission was mere burglary, the so-called burglars would not have prevailed on the son to take them to his father's bedroom.
He said that the alleged attempted attack on Ekweremadu had cast a dark shadow on the security of lives and property in Nigeria.
On the Second Niger Bridge, Ortuanya expressed worry that it had become a 'political chess board' ahead of the 2019 general elections.
He said that the construction of the bridge needed to be taken seriously and delivered in good time.
He said that the facility was the gateway to the eastern part of the country with business hubs of Onitsha, Nnewi and Aba.
"We note with concern that the Second Niger Bridge has become a political chess board in the hands of politicians seeking Igbo votes.
"We have become aware that that it was only in July, 2018 that the contract for the bridge was signed, in spite of the fact that the foundation-laying ceremony was done in 2013.
"We pray that this will not be another lip service to the realisation of the project," the director-general said.
He also said that the forum was worried over continued deterioration of facilities at the Akanu Ibiam International Airport in Enugu.
"It is, indeed, a shame that a whole region as economically robust as the South-East, does not have an airport that can land all categories of aircraft.
"We restate that the airport is not safe as there are no runway lights, the tarmac is bumpy with potholes while one of the buildings has become an eyesore," he said.
Ortuanya said that one of the building was destroyed by rainstorm for over two years, adding that the cargo section of the airport was not functional.
"We are aware that Gov. Ifeanyi Ugwuanyi of Enugu State has taken up the challenge of helping to fix the airport.
"We also know that the burden is too heavy for the state government and that is why we are calling on the Federal Government to come to our aid," Ortuanya said.

Load more