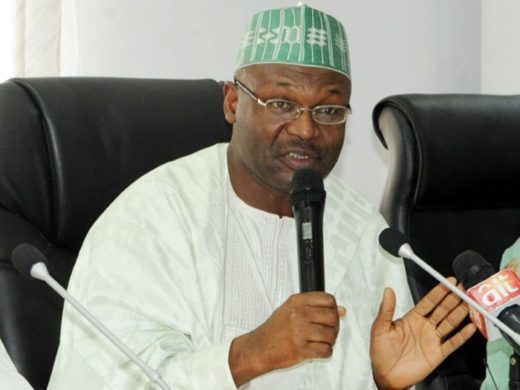 Prof. Mohmood Yakubu, the National Chairman, Independent National Electoral Commission (INEC), says for the country's democracy to advance, Nigerian youths must be fully involved in politics.
Yakubu stated this in Nsukka on Tuesday during the European Centre for Electoral Support (ECES) campus outreach tagged "Youths Votes Count" held at University of Nigeria, Nsukka.
He said young people had the capacity, energy and intellect to be involved in the democratic process in order to positively influence and boost the country's democracy.
"For the country's democracy to advance, youths must channel their capacity and intellect in all electoral processes that will result in free and fair elections.
"Youths are future leaders and the destiny of this country lies in their hands.
"Every youth should have his or her Permanent Voters Card (PVC) ready to vote and protect the vote."
Yakubu, represented by Dr Festus Okoye, INEC National Commissioner in-charge of information and Voter Education, said the commission was committed to conducting credible, free and fair election in the 2019 General Elections.
"INEC has put quality processes and procedures that will deliver credible, free and fair elections in 2019.
"Because of improvement in elections in the country, politicians now know that snatching of ballot boxes is useless; that is why they have resorted to vote buying,'' he said.
Also speaking, Amb. Ketil Karisen, Head of the EU Delegation to Nigeria and ECOWAS, said the aim of the bloc was to sensitise Nigerian youths on the essence of ensuring credible, free and fair elections in 2019.
"We are not supporting any party's candidate or political party but our concern is to ensure credible, free and fair election.
"Since 1999, EU has spent over 100 million euros in support of elections in Nigeria.
"Nigeria is receiving the highest fund from EU because it is the most populous and biggest economy in Africa."
The ambassador urged youths to resist any attempt to use them as thugs or accept any inducement for them to sell their votes during elections.
"Youths should resist any attempt to use them to cause violence in the 2019 General Elections.
"Youths should also sensitise people around them on the dangers of vote buying and resist any attempt by some politicians to lure them into any wrong doing,'' he said.
Mr Emeka Ononamadu, the Resident Electoral Commissioner in Enugu State, appealed to the electorate to ensure that they participated actively in the elections.
Ononamadu said records available to INEC in Enugu showed low turnout of voters in the 2015 General Elections.
"The last election had 1.4 registered voters in Enugu State but only about 500,000 people voted.
"Now for the 2019 General Elections, 1.9 million voters have registered, which is a sign that the people are determined to drive democracy in the state,'' he said.
Also in a remark, the President of the Students Union Government in UNN, Mr Fortunatus Chimezie, commended the EU and INEC for organising the event in the institution.
Chimezie assured them that the students would vote wisely come 2019 and would not be involved in vote selling or election violence.
The highpoint of the event were performances by top Nigerian artistes including Uti Nwachukwu, 2Face Idibia, Banky W and Ebuka Obi-Uchendu.

Load more