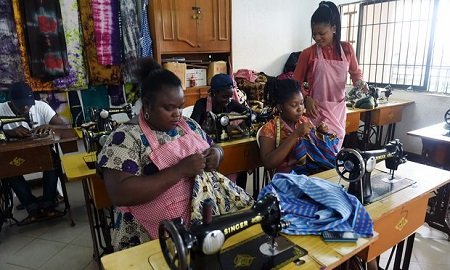 As part of efforts to reduce unemployment, the Industrial Training Fund (ITF), on Wednesday said it had concluded the training of 360 women from 12 states in fashion designing.
The Director General/Chief Executive, ITF, Mr Joseph Ari, disclosed this during the closing ceremony of the Women Skills Empowerment Programme (WOSEP) in Warri.
Ari, who was represented by Mr Zachariah Piwuna, ITF's Director, Research and Curricular Development Department, said the beneficiaries were drawn from 12 states of the federation.
According to him, the states are: Delta, Akwa Ibom, Bauchi, Kogi, Imo, Bayelsa, Jigawa, Kwara, Kogi, Lagos, Oyo and Yobe.
Ari said that the programme was one of the strategies and initiatives captured in the Fund's Reviewed Vision.
The ITF boss said the programme was intended to provide women with requisite technical and vocational skills to enhance their productive capacities.
He said that this, by implication, would reduce unemployment and create wealth among women.
Ari said the ITF Strategies for Mandate Actualisation was unveiled in 2016 as part of accelerated efforts to equip many Nigerians with skills.
This, he said, was in line with the Federal Government's policy on job creation and poverty eradication.
"According to the unemployment report by the National Bureau of Statistics for the Fourth Quarter of 2016, women suffer an unfair proportion of unemployment and underemployment, especially when compared to men.
"Like the first phase, all the beneficiaries will be presented with start-up packs to ensure that they start up on their own businesses immediately.
"I therefore warn you not to contemplate selling the packs," he said.
Ari said the start-up packs cost ITF several millions of Naira to procure, urged the beneficiaries to prove to the world that the three months of training were worth the while.
One of the beneficiaries, Miss Divine Sylvester, commended ITF for empowering them, saying it had added values to their lives.

Load more