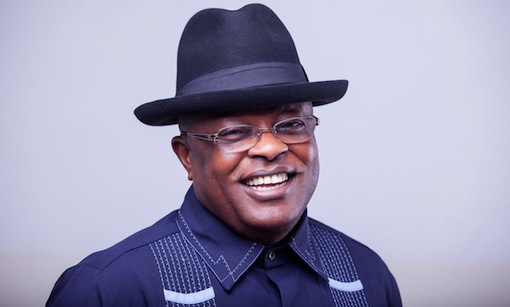 Gov. David Umahi of Ebonyi on Wednesday called on foreign investors to patronise the state in view of its abundant mineral resources.
Umahi made the call during "Ebonyi Special Day" at the 2018 Lagos International Trade Fair held at the Tafawa Balewa Square, Lagos.
Represented by the state Commissioner for Commerce and Industry, Mrs Ugo Nnachi, Umahi said that the state's abundant mineral resources waiting to be tapped included salt, lead, zinc, copper, kaolin, gypsum, clay, cement, coal and among others.
"It may interest you to know that crude oil was discovered in the state in 1928 and until now it is yet to be tapped and we are hoping that before long Ebonyi state will join the league of oil producing state.
"Ebonyi State also has a lot of tourism potential such as beaches, parks, resort centres and good hotels," he said.
Umahi said that his government had embarked on projects that would attract investors, eliminate unemployment, hunger, insecurity, diseases and illiteracy in the past three years.
He enumerate some of the projects as the entrepreneurship scheme sponsored through soft loans, massive rice production, health care delivery, infrastructural development and market construction, among others.
The governor urged investors to partner with the state and gave assurance of his commitment to provide the enabling environment and facilities for businesses to thrive.
Mr Babatunde Ruwase, President, Lagos Chamber of Commerce and Industry (LCCI), said that the chamber looks forward to Ebonyi State becoming a fast growing industrialised state in the country.
He said that National Bureau of Statistics (NBS) latest figure showed that Ebonyi generated N4.79 billion in 2017 compared with N2.34 billion in 2016, representing over 100 per cent increase.
Ruwase said that the state was host to several large and small industries with a fast growing population that currently stands at about 2.2 million.
The LCCI boss said that there was need to proactively tackle the peculiar challenges of urbanisation as Ebony's mega state status emerges.
Ruwase urged Ebonyi government to create conducive environment for businesses to thrive, adding that the private sector had the greatest potential to generate jobs and uplift people from poverty.

Load more