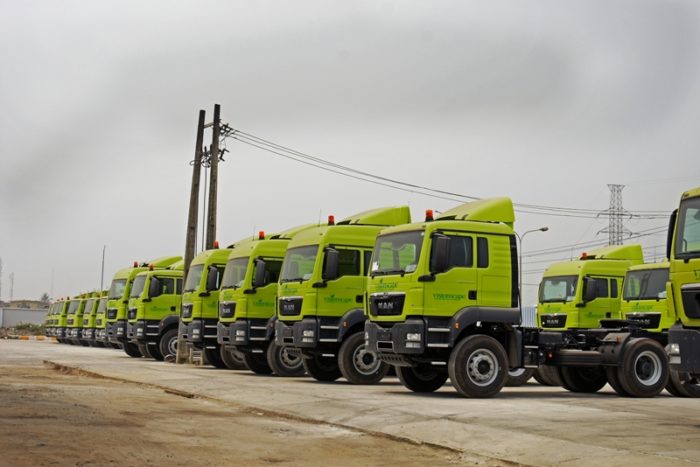 Visionscape Sanitation Solutions, the environmental utility group contracted by the Lagos State Government to implement the Cleaner Lagos Initiative (CLI), today posted a series of tweets to "clear the air" regarding operations.
Read the full tweet thread below:
"It has become imperative for us to clear the air regarding our current operations and contract with the Lagos State Ministry of Environment. We hope that after this all misconceptions will be effectively put to rest.

"In May 2015, when Governor Ambode took over as governor, he was faced with substantial public health expenditure. The aftermath of the Lassa fever outbreak of January 2016 and the poor condition of the waste management infrastructure.

The use of dumpsites like Olusosun, the filthy state of the beaches and waterways, LAWMA's diminished fleet & the general state of majority of the compactors on most of the roads catalysed the administration's decision to appoint an inter ministerial committee to evaluate the situation and map out viable long-term solutions. The findings of the committee revealed that a strategic investment in the environment was required to improve health, tourism and economic outcomes.

Visionscape Sanitation Solutions, backed by an international consortium of companies responded to an advertised tender request issued by the Lagos State Government in several major dailies in August 2016.

The tender called for "Turnkey Proposals for Private Sector Investment in Solid Waste Management and covered Marine Waste and Beach Cleaning, construction of various landfills, upgrade of LAWMA sites and provision of residential waste collection services.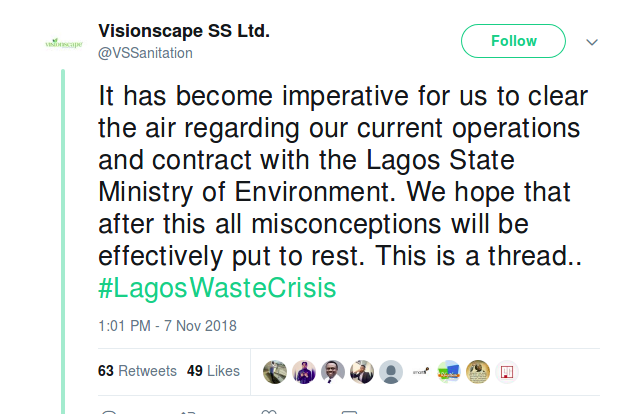 There was a specific focus on commercialising key areas such as hazardous and medical waste and a review of drainage management.

The first step required would be the passage of a harmonised environmental law which would allow for private investment and open the entire value chain (waste, water and infrastructure) to much needed investment.

The draft had been developed as far back as 2010 and it was clear to all parties that reform was well overdue.

It must be said that the oft repeated accusation that Visionscape was written into the environmental law passed in March 2017 has no basis in fact and is a politically motivated lie.

Following reforms, there was both local and international interest in the tender process and some of the biggest names in environmental management such as Veolia, Averda & Suez Environment expressed their interest for strategic partnerships with local partners.

There were varying levels of understanding of the challenges in the system and Visionscape's partners addressed each component strategically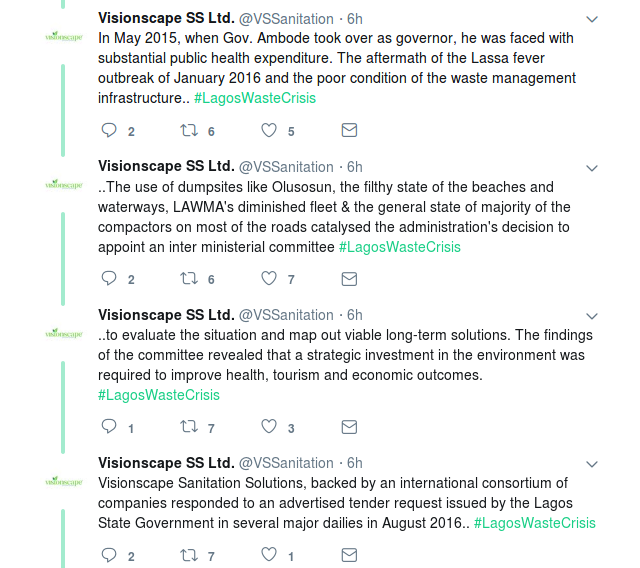 Interwaste South Africa for landfill, Schaefer Germany for bins for example and an entirely new fleet for collection of residential waste (approximately 40% of the waste generated in Lagos)

The clincher came in the form of their willingness to accept and execute a contract in local currency denominated (₦).

Visionscape Sanitation Solutions- the Nigerian entity backed by its UAE parent Visionscape Int'l Holdings, hedged the consortium against exposure & agreed to accept the ₦ denominated payment arrangement under a guarantee backed PPP with the Lagos State Gov't .

Some of their key deliverables include: Provision of an engineered sanitary landfill, the upgrade and management of three transfer loading stations- Oshodi, Simpson and Agege

The upgrade and management of waste depots – Ogudu, Mushin and Tapa,,Residential collection of waste.

A major challenge to the operations came in the form of a bitterly fought court battle by the existing operators "PSPs" who not only sued Lagos State but also sued the new entrant -Visionscape.

This severely affected the planned operational handshake which was to see the PSPs gradually withdraw as Visionscape's fleet (ordered and imported on a schedule) ramped up over time

Against this backdrop, outright sabotage from within and without has plagued the operations. The PSPs rejected so many entreaties and compromises offered by the Ministry of Environment.

Visionscape says vested interests botched the rollout of the commercial operations and compromised the systematic rollout and escalation of service that was to be offered.

At present, with 30% percent of their planned fleet in country, Visionscape has 5 times the fleet of the next largest operator.

It has established strategic partnerships with the recycling companies – @Wecyclers who welcomed the entrance of Visionscape as a way of strengthening the local market

Most crucially, the provision of alternatives to Olusosun- a major environmental and structural catastrophe in the waiting is being led by Visionscape and other concessionaires of landfills in Badagry, Epe and Ikorodu are following closely behind.

This puts an end to harmful gases and chemicals in our water table and noxious fumes affecting the residents nearby.

Despite the Lagos State Govts bold step to change business as usual, those who benefit from broken systems are fighting back while other states like Kaduna & Oyo have been able to ride on the tailwind and push through waste reform lifted from the Lagos playbook.

Visionscape, despite taking delivery of new trucks every week, signed short term contracts with over 159 PSPs and has developed a long term franchise scheme that will accommodate over 50 PSPs.

The Lagos state intervention program at LCDA level has borne fruit. Sensing defeat, the mischievous assertions about ownership and the law had to emerge to derail the process further.

Meanwhile, marine waste collection remains to be finalized, a myriad of recycling opportunities are yet to be activated and the grassroots advocacy on behavioral change is yet to be embarked upon.

The Visionscape Contract with the Lagos State Ministry of Environment is a Service Contract not a PPP.

The Street Sweeping program which was supposed to absorb existing LAWMA personnel and further bolster efficiency was never implemented even though it was one of the cornerstones of the CLI.

Street Sweeping was to be given out in wards to 377 Contractors – the crisis never allowed for this to happen. This fact coupled with strategic sabotage by disgruntled operators has added an extra layer of difficulty to VS operations

Visionscape was asked to "fill the gap" in the interim while the MOE and LAWMA concluded the transition but had no support to achieve this and was also battling with a surge in Waste brought about by the PSPs downing tools.

The ₦50billion Cleaner Lagos Initiative program is a PRIVATE COMPANY BOND – ( PCB) it is not on the State's balance sheet and is Nigeria's single biggest private sector investment in the environment to date.

It's been given two awards by the FMDQ Debt Capital Market (DCM) Awards and is being replicated in Imo, Borno and Gombe State by their respective State Governments.

This information has become necessary ff the consistent misinformation and falsehoods peddled by disgruntled vested interests who do not mean Lagos well. Thank you for letting us clear the air, together we will fix the #LagosWasteCrisis bring the Cleaner Lagos Initiative to life

Load more