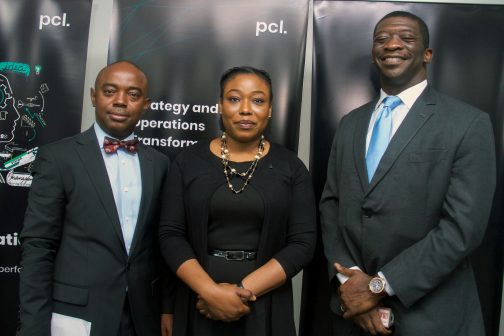 Phillips Consulting (PCL), an innovator in instructor led and online trainings, has just announced the launch of its 2019 Training Calendar–highlighting the best, up-to-date and most relevant training courses essential to all professionals and companies to meet expected goals and outcomes.
The official announcement was made at a press briefing at the PCL Lagos office on the
1st of November by Senior Partner, People Transformation, Mr. Paul Ayim, Head of Digital
Learning, Mrs. Modupe Thomas-Owoseni and Head of Classroom Learning, Nwaji Jibunoh.
The team revealed that it is crucial to empower people to perform at the very highest
level and explained that PCL's carefully designed and executed programs are provided
through methods designed for optimal impact on participants' behaviour.
They also revealed that an ever-changing operating landscape means there is need to
continuously evolve to ensure the provision of world-class learning interventions from
creation through to delivery, in alliance with global thought-leader partners around the
world.
Speaking on the offerings, Senior Partner, Mr. Paul Ayim said "Over the years, several blue
chip Organisations have trusted the quality of our classroom and digital learning
interventions. This confidence has brought a paradigm shift in their mindset from seeing
training as a cost to a significant investment in their most critical of all assets, their people.
"Our digital learning interventions further enhance their ability to embed learning into their
employees flow of work. Employing blended learning approaches has led to impressive
results as knowledge gained is immediately applicable in the work people do and
reduces the significance of scrap learning, which occurs when people do not use what they learn.
"Our aim is simple: to help your people succeed. We will go to any length to ensure that
this happens."
The 2019 training calendar features a wide range of In-House, Open-Standard, Technology-focused and International programs that can be delivered locally and internationally at the client's discretion.
According to Head of Classroom Learning Mr. Nwaji Jibunoh: "The 2019 calendar gives
a full view of our wide range of learning interventions which includes:
Instructor Led Facilitation courses, held at our training facilities with programmes covering
Leadership and Management, Workforce Management, Infotech and Bespoke Learning
Courses.
Our specialized solutions which include Knowledge Management, Strategic and
Managerial Competency Development Solutions guides those who seek to build strong,
sustainable establishments through the documentation and sharing of organisational
intelligence."
In addition we also have Online Learning Solutions that are either customised digital
courses or curated off-the-shelf content, designed to help organisations embed learning
into the workflow.
Also speaking on Digital Learning's offerings, Managing Consultant, Modupe ThomasOwoseni
said: "With the wave of Digital Disruptions taking place in the global market place; there is an urgent need to rapidly upskill all employees on the various frameworks and technologies
being adopted.
"This will help the entire organization to become more digitally aware, in readiness for their digital transformation journey. Phillips Consulting, through its plethora of digital learning solutions is poised to support organisations through this agile journey of learning in a digital world for optimal business performance and sustainability".
With over 26 years of experience in learning and development and training facilitation,
Phillips Consulting is renowned for its ability at working closely with organisations to
understand specific goals and requirement(s) that guides in planning and developing
exceptional training interventions to meet their client's essential objectives.
This is achieved through a team of recognized consultants and facilitators who are successful
industry professionals and possess several years of experience in their various fields of
expertise.

Load more