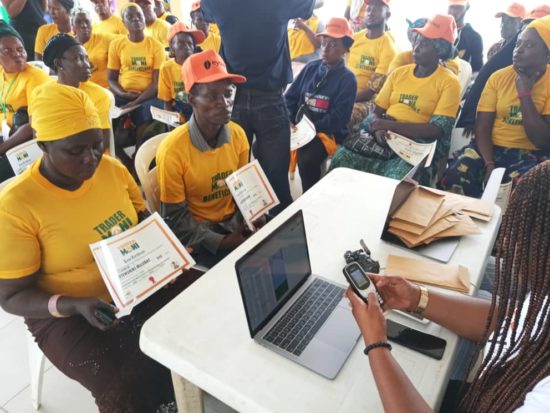 A political group in Nigeria has rejected the main opposition party's claim on Trader Moni, a Social Investment Programme (SIP) initiated by the Buhari government.
Reacting to the claims of PDP, Sunday Akinloye, chairman of the Initiative to Save Democracy (ISD) explained that Nigerians are not for sale at any price.
He noted that because the PDP is a heavily corrupt party, its sees any money transaction as a bribe-giving relationship. "The PDP must note that Nigerians are wiser now and are not for sale. The Trader Moni scheme is very laudable as it has reached close to one million Nigerians.
Akinloye noted that the All Progressives Congress led government does not believe that Nigerians can be bought but instead they have dedicated their service towards the betterment of the people. "The traders who accessed Trader Moni early are already paying back the loan. Nigerians must know that these loans are tied to Bank Verification Numbers and must be repaid.
"The traders were not even asked for their Permanent Voters Card as claimed by the PDP. All you need to be eligible is to be a petty trader.
"The PDP merely reflects their kind of corruption-minded politics which failed to benefit the people for 16 years. They are bitter that they added no real value to Nigerians and will do anything to pull down a good government.
Akinloye explained that while there are so far over 809,000 beneficiaries of TraderMoni, over 1.1 million Nigerians – market women, traders, artisans, farmers – are currently beneficiaries of Government Enterprise and Empowerment Programme (GEEP), which comprises FarmerMoni, MarketMoni and TraderMoni.
FarmerMoni loans start at N300,000 and are for farmers in farming clusters, via farm aggregators, while MarketMoni is a 6-month interest-free credit of between N50,000 and N300,000 for small businesses – medium-scale traders, market women, artisans, and youth in market associations – under the auspices of their cooperative societies.
Under the TraderMoni scheme, beneficiaries can get access to a higher facility ranging from N15,000 to N100,000 when they repay N10,000 within the stipulated time period.
"PDP are insulting Nigerians by suggesting that our people are for sale," Akinloye stressed, "No amount is good enough, our people's right to choose their leaders is priceless, let PDP stand on their own record and stop this abuse of our collective identity," he added.
He then went on to explain that TraderMoni, which is part of the Federal Government's Social Investment Programme (N-SIP), is designed to assist petty traders across the country expand their trade through the provision of collateral and interest-free loans from N10,000. The loans are repayable over a period of six months.
The scheme, which has since been formally launched in 33 states and the FCT, is expected to reach 2 million petty traders by the end of the year,
Also, through TraderMoni scheme, the Buhari Administration aims to take financial inclusion down to the grassroots, and uplift Nigerians at the bottom of the pyramid, considering the contribution of petty traders to economic development.
The Federal Government is also aware of the fact that many of the petty traders don't have what the commercial banks require to grant them loans.

Load more