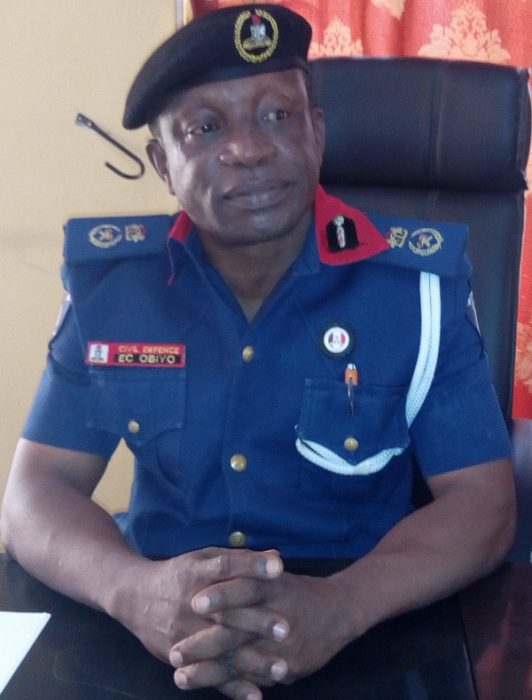 Adejoke Adeleye
The Ogun State Commandant, Nigeria Security and Civil Defence Corps (NSCDC), Everestus Obiyo, has vowed to put an end to pipeline vandalism in the state.
Obiyo, who gave this assurance at a press conference held at the state Command on the success of the command since he assumed of office, said the command was determined to fight vandalism to a standstill.
According to him, the vandals around Ogijo in Sagamu Local Government, on sighting the command's Anti-Vandal team, set ablaze three vehicles they had brought to carry out their nefarious activities, saying that the vehicles were burnt beyond recognition.
He hinted that the command also recently recovered a blue painted Caravan bus with Lagos registration number, AKD 587 XL loaded with 44 kegs of 25 litres of petrol, another six and half loaded drum with long hose used in perpetrating their crimes.
His words: "250 kegs of 30 litres of petrol were also recovered around Akere area of Ipokia in Yewa South local government while another 69 sacks of petrol abandoned by the vandals had been returned to NNPC, Mosimi depot, Sagamu.
The commandant told the journalists that Ogun State is facing challenges with unrepentant vandals, adding that the command was also giving them sleepless time to reduce to the lowest minimum nefarious activities of vandals in the State.
He disclosed that his administration had decided to place permanent watch and patrol over all black spots across all Nigerian National Petroleum Corporation (NNPC) pipelines across the State.
Obiyo further explained that since his assumption of office six weeks ago, he had resolved to wipe out vandalism in Ogun State.
He declared that all those who were arrested in connection with these criminal infractions were at various degrees of prosecution at the Federal High Court, Abeokuta.
Obiyo stated that "We have also placed very stringent mechanism against any of our men who intend to collaborate, co-opt or participate in the acts of vandalism. We are aware of possible temptations but all hands are on deck to see that these temptations from vandals do not come to fruition."

Load more