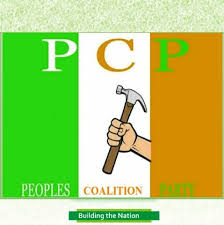 A Lagos based rights activist, Mr Ogedi Ogu, has approached a Federal High Court in Abuja, seeking an order restraining the 2019 Presidential Candidate of the People's Coalition Party (PCP), Dr Felix Nicholas from contesting.
Ogu, who is National Legal Adviser to the PCP, filed the suit FHC/ABJ/CS/1275/18, through his counsel, Mr Maxwell Opara, and on behalf of the National Executive Committee (NEC) as well as the National Working Committee (NWC) of the PCP.
Defendants in the suit are: the PCP, The Independent National Electoral Commission (INEC), National Chairman of the PCP, Don Chukwuma Harmattan and Nicholas.
The plaintiff's motion on notice is brought pursuant to the provisions of order 26, rules one, two, three and six, of the Federal High Court Civil Procedure Rules 2009, and under the inherent jurisdiction of the court.
The legal adviser is seeking an order of the court, restraining INEC from further listing, publishing, or recognising the fourth defendant as presidential candidate of the PCP for the 2019 elections, pending final determination of the suit.
He averred that INEC on Oct. 26, listed the fourth defendant as the PCP candidate among the published names of 50 presidential candidates for the 2019 elections.
He argues that the fourth defendant was listed, in spite of a "Notice of Rejection" dated Oct.9, and a resolution of the NEC and NWC of the PCP on Oct.12 which was acknowledged by INEC on Oct.16.
The lawyer is urging the court to issue the restraining orders, since the right of the plaintiff as a member of NEC and NWC of the Party, to participate in the process of nomination of presidential candidate, is in breach.
According to him, the PCP has by the resolution of its NEC, dissociated, condemned and rejected the purported nomination of Nicholas as its presidential candidate.
He, therefore, seeks an order of interlocutory injunction, restraining the fourth defendant from parading or holding himself out as PCP presidential candidate.
Besides, Ogu wants the court to issue an order, abridging time within which the defendants are to enter appearances in the suit before the court.
No date has been fixed for hearing of the suit.

Load more