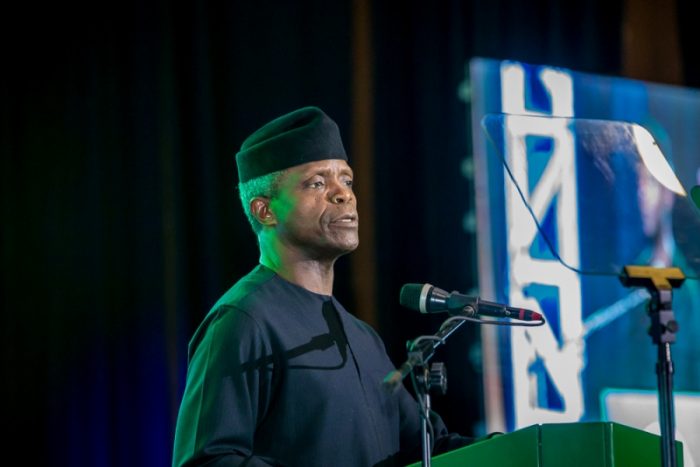 The Federal Government will within the next one year provide stable electricity to 80,000 shops, 320,000 Micro, Small and Medium Scale Enterprises (MSMEs) in 16 economic clusters across the country to help them improve their operations and significantly cut down cost.
Vice President, Prof. Yemi Osinbajo, made this disclosure during the commissioning of the 1.5 mega- watts (MW) Sura Shopping Complex Independent Power project (IPP) in Lagos State recently.
Government, through the Rural Electrification Agency (REA) has commenced the implementation of its Energizing Economies Initiative (EEI), which aim is to provide efficient, clean and sustainable power to four economic clusters across Nigeria.
Osinbajo, explained that the initiative would have a transformative impact with the provision of reliable power supply to small and medium size enterprises by increasing their economic growth."Within the next year, over 80,000 shops and 320,000 MSMEs in 16 economic clusters serving at least 18 million Nigerians will be electrified, creating over 2,500 jobs in the process.
"In the coming years, Nigeria will experience massive economic growth; the Sura shopping complex is the flagship off grid power project that will help unleash Nigeria's immense economic potential," said Osinbajo.
Similarly, the Minister of Power, Works and Housing, Babatunde Raji Fashola, SAN who was at the ceremony, stated that the EEI was in line with Government's plans to ensure that businesses in Nigeria enjoy stable electricity supplies.
Fashola said: "The Energizing Economies initiative further illustrates the commitment of the Federal Government to providing electricity to Nigerian businesses. Government cannot do it alone and we have been working closely with the private sector." Sura IPP represents small pockets of transformative change that will ultimately translate to significant economic development in Nigeria.
Accordingly, Managing Director of REA, Damilola Ogunbiyi, stated that the Sura power system was built in collaboration with private sector operators who has the right competence. She noted that other markets would be electrified through the EEI.
"The Sura business experience has been completely transformed into a safe, clean, cost effective and business – friendly environment. This is the sort of progress FGN is committed to scaling through the Energizing Economies Initiative."We are collaborating with qualified private sector developers to roll out off-grid electrification projects across the country-Sura is just the beginning of our success story,'' Ogunbiyi, explained.

Load more