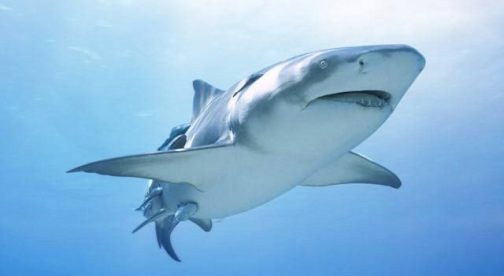 A teenager was mauled by a shark while spearfishing off the northern coast of Australia on Sunday, authorities said.
The 17-year-old boy was bitten on his arm and leg about 18 miles offshore from Nhulunbuy, a town in the Northern Territory, according to police in the region.
The teenager was treated by paramedics at the scene and then airlifted to Royal Darwin hospital having suffered "deep lacerations," a Careflight spokesman told the Guardian.
"I believe the people on the boat [did] an amazing job to stem the bleeding and to give him first aid treatment prior to the arrival of paramedics," Craig Garraway of St. John Ambulance told The ABC.
The Australian network also reports that officials believe the boy was attacked by a reef shark.
Garraway said that he couldn't recall a shark attack in the Northern Territory before.
This latest incident comes on the heels of another shark attack in which a man was bitten on the beach Saturday south of Wollongong in Australia.
That man, who is 24 years old, was learning how to surf at the time.
He had wounds to his hand and calf and was later taken to St. George hospital.

Load more