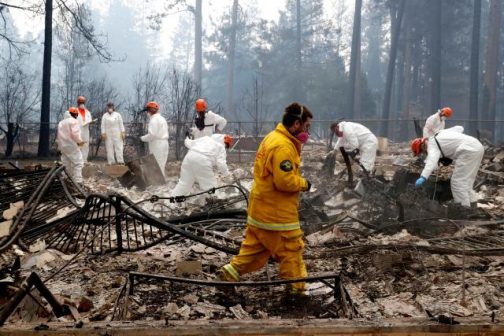 A woman in California reportedly endured back-to-back traumatic ordeals last week – first, living through the deadly Thousand Oaks shooting and then having to abandon her home due to a wildfire.
Deseriee Edman is attempting to remain optimistic considering all that's happened but told KCBS-TV of Los Angeles on Thursday that she endured "two-near death experiences that you just don't expect."
"I'm trying to stay strong as possible for my family and my friends," she told the outlet. "And I'm trying to look at everything as positive as I can in these types of situations."
Deseriee reportedly managed to escape the Borderline Bar & Grill on Nov. 7 after a gunman opened fire and killed 12 people, including veteran Sheriff's Sgt. Ron Helus.
"It's really tragic that this happened in our city," her mother, Carmen Edman, told the outlet. "In Borderline, and that Ron had to pass. It's just tragic."
Carmen reportedly recalled the anxiety she felt after learning her daughter had been at the scene of the shooting. Her "stress levels were off the charts," she said.
The next day, the family had to flee their residence in Malibu, Calif., due to the Woolsey Fire, she told KCBS.
As of Saturday morning, the blaze that reportedly destroyed the family's home had burned more than 98,000 acres since Nov. 8 and was 82 percent contained, according to Cal Fire (California Fire Department and Forestry Protection.) Three people have died as a result of the inferno, the agency said.
Meanwhile, the death toll in the Camp Fire, which is raging in the northern part of the state, rose to 76 on Saturday, Butte County Sheriff Kory Honea said.