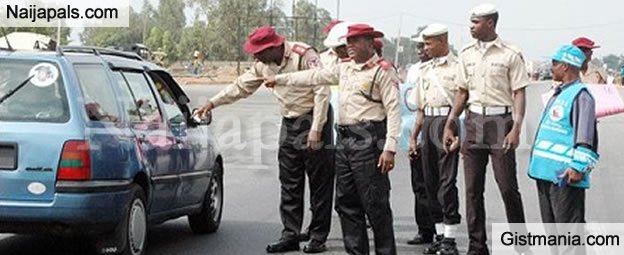 Jethro Ibileke/Benin
The Federal Road Safety Corps (FRSC), has warned that reckless drivers who get involved in road crashes during the Yuletide season will remain in prison custody till January 15, 2019.
The Commander, Zone 5, FRSC, Mr. Kehinde Adeleye, gave the warning in Benin on Tuesday, during the launching of Guinness Nigeria Plc and the Corps' "ember months" campaign, with the theme, "Responsible drinking."
Adeleye​ also warned that vehicles involved in such road crashes within the period would not be released till January 15, 2019.
"We had instruction from our national headquarters in Abuja that any driver we arrest, whether Keke or Okada, car or bus or truck driver in this ember months period will not be released until after January 15, 2019.
"In addition, we will have mobile courts virtual in all routes. If mobile courts are in session and any driver found culpable of causing road crashes, and he or she is arrested will remain in prison custody till next year January.
"The idea is that we have been struggling from January to December to make our daily living. It is our responsibility to our families and I don't think it is advisable to now spend Christmas and new year in prison custody or to have the means by which we make ends meet seize from us by government," he said.
The Road Safety Commander who lamented the high rate of road crashes, noted that 45 percent of road accidents were caused by drunkenness.
He also stated that drivers of articulated vehicles, especially tippers, had been responsible for several accidents, noting that the Zone was on the trail of tipper drivers for their involvement in road crashes in the zone.
"I want to call the attention of the chairman or the representative of the tipper drivers Union. I am personally on the trail of your drivers. There are too many reports of drunk driving among your members and they are killing people on dally basis," Adeleye said.
He commended the management of Guinness Nigeria Plc for the donation of breathalyzer kits to the agency with a view to testing drivers' level of drunkenness on the highway.
In her address, Titilola Alabi, Manager, Sustainable Development and Alcohol in Society of Guinness Plc, said the breathalyzer kits was to test the level of alcohol taken by drivers while on the highways.
Earlier in his speech, Manager, Guinness Nigeria, Benin plant, Alli Bayo, said the company had been partnering with FRSC to create awareness on the need for drivers to avoid drinking while driving in the last 14 years.
Bayo, who was represented by Everest Ogohnim, the Packaging Manager of Guinness Nigeria Plc, encouraged stakeholders in the transportation sector to make firm commitment to never drink and drive by signing the #JoinThePact wall.

Load more