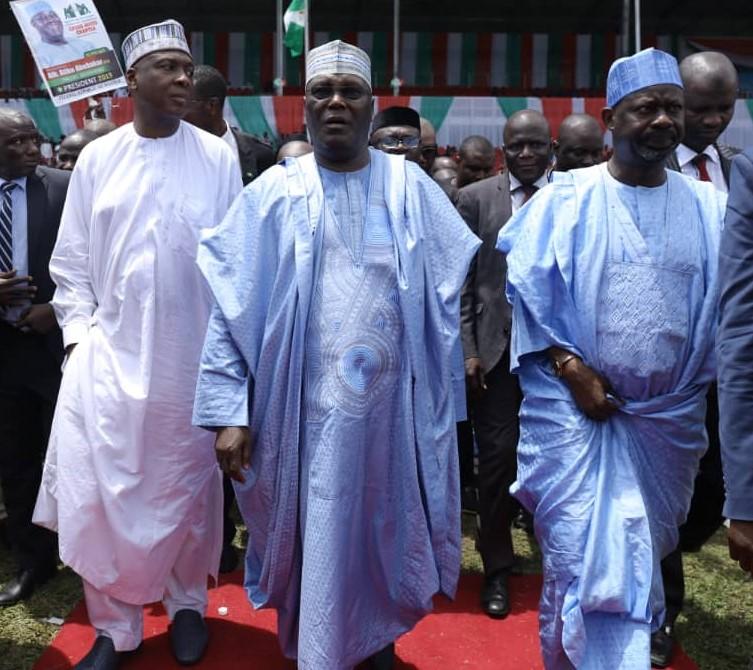 A Katsina-based youth group, Voice of Katsina Youths, on Saturday flagged-off a campaign aimed at mobilising youths to support Atiku Abubakar, the PDP flag bearer in the 2019 presidential race.
Hajia Farida Kabir-Murnai, its National President, who flagged-off the exercise in Zaria, Kaduna State, said that the organisation was convinced that Atiku, if elected, would improve the lot of the nation's young people.
She claimed that President Muhammadu Buhari, who is from Katsina State, had not given adequate attention to that state.
"Buhari has inaugurated many projects in other parts of the country, especially in the Niger Delta, but his own state, Katsina, is still waiting for his attention," she said.
The group's leader called on the youths of Kaduna State to rally round Atiku in the forthcoming presidential election, saying that he (Atiku), had articulated a plan that would make Nigeria a great nation.
Kabir-Murnai regretted that federal government scholarships were becoming increasingly difficult, saying that the situation had affected both students and their parents.
She advised youths to register as members of the movement so as to participate in Nigeria's quest for greatness, and assured members that everyone would be part of the outfit's decision making process.
In his speech, Malam Jibril Ahmadu of Pharmacy Department, Ahmadu Bello University (ABU, Zaria, called on the youths to be the representatives of Atiku in their respective areas.
Ahmadu, former President, ABU Students' Representative Council (SRC), alleged that the Buhari administration had yet to achieve much so far.
Speaking in an interview with the News Agency of Nigeria (NAN), shortly after flagging off the campaign, Kabir-Murnai said that the organisation was neither political nor profit making.
"Ours is a non-political organisation; we are only mobilising for Atiku because we feel he will be "very nice" to the youths.
"We are convinced that he will give attention to the youths because they constitute a bulk of those he currently works with. Most of his campaign team members and personal aides are youths. We have no doubt that the situation will continue if he is elected," he said.
On why the organisation was interested in PDP alone, she said that members campaigned for the APC in 2015, but were "forgotten" after victory was achieved.
"In 2015, we campaigned for the APC. We went round all the local governments in Katsina State. The youths were very committed and worked hard to ensure victory, but not much was given to them at the end of the day," she said.
She regretted that many youths in Katsina State were into drugs and blamed the situation on neglect over the years.
"When a youth is gainfully employed, he will have little or no time to abuse drugs or engage in other social vices.
"I have been persecuted for insisting on improving the plight of the youths. I was even arrested and detained in Katsina. I have been intimidated, criticised and harassed, but I believe I am doing the right thing and that is what motivates me," she said.
Kabir-Murnai said that the organisation was getting stronger and was no longer limited to Kastina State.
"We are targeting the entire seven states in the North-West Geo-political Zone," she said.

Load more