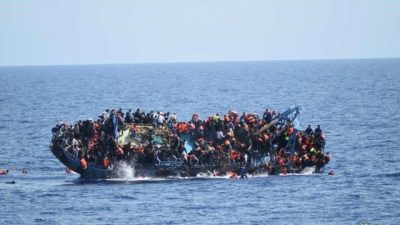 A Non-Governmental Organisation, Migration Enlightenment Project, Nigeria (MEPN), has urged the Federal Government to expand consular support for Nigerian migrants facing challenges in transit and in destination countries.
Mr Kenneth Gbandi, a Co-Project Director, MEPN, in a statement on Tuesday in Abuja, said this is done, it would provide protection in view of the sufferings of irregular migrants.
He said that stranded migrants, especially in transit, were left to the mercy of traffickers who were responsible for their precarious situations.
Gbandi said that the risk of boarding rickety boats to cross the Mediterranean for Europe was responsible for the increasing number of deaths on daily basis in the Mediterranean Sea among migrants.
According to him, more than 2,000 migrants, many of whom are Nigerians, have been recorded drowned in the sea as a result of irregular migration.
"In spite of the more than 15,000 migrants who have been returned to Nigeria since the beginning of 2017, thousands of Nigerians are still believed to be stranded in different transit countries.
"International humanitarian organizations have declared that the number of people held in deplorable conditions in Libyan detention camps has risen dramatically.
"Libya's Foreign Minister Mohamed al-Taher Siala recently admitted that its detention facilities still held many sub-Saharan migrants whom the country did not know what to do with," the statement quoted Gbandi as saying.
He said that record from Libya Foreign Ministry shows that an estimated 30,000 irregular migrants were currently held in detention centres in the country.
Gbandi, therefore, called on the Federal Government to demand access to Nigerians detained in Libya and make a renewed effort in collaboration with international organisations to repatriate them back home.
He said that it was time for ECOWAS to unite on a common plan to enable citizens of its member states in distress in North African countries to get assistance from any member states embassy or consulate.
He said the collaboration would be a strong sign of community solidarity that reinforce the protection of ECOWAS citizens.

Load more