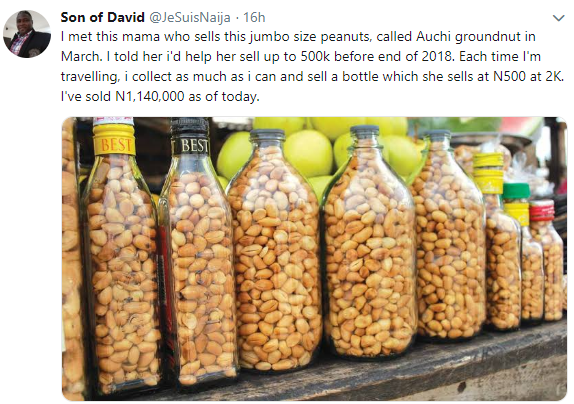 Adekunle Dada
A twitter user, JeSuisNaija has narrated how he helped a woman sell groundnut worth over one million naira abroad in 8 months.
He disclosed that he met a woman in March, 2018 and promised to help her sell up to 500,000 naira worth of groundnut before the end of the year. JeSuisNaija who obviously resides abroad collect many groundnut from the woman anytime he's to travel and sell them for 2,000, what normally goes for 500 naira.
He wrote: I met this mama who sells this jumbo size peanuts, called Auchi groundnut in March. I told her i'd help her sell up to 500k before end of 2018. Each time I'm travelling, i collect as much as i can and sell a bottle which she sells at N500 at 2K. I've sold N1,140,000 as of today.
I met this mama who sells this jumbo size peanuts, called Auchi groundnut in March. I told her i'd help her sell up to 500k before end of 2018. Each time I'm travelling, i collect as much as i can and sell a bottle which she sells at N500 at 2K. I've sold N1,140,000 as of today. pic.twitter.com/M5JB1dFgW3

— Son of David (@JeSuisNaija) November 27, 2018

Load more