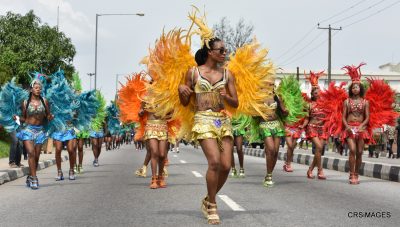 Mr Gabe Onah, Chairman, Calabar Carnival Commission, says the 2018 edition of the carnival will host over 30 countries and 25 states.
Onah made the disclosure on Thursday in an interview with the News Agency of Nigeria (NAN) in Calabar.
He told NAN that the 32-day annual street party which would commence on Dec. 1 till Jan. 1, 2019, would be used to tell the story of the African race through the theme `Africanism'.
Onah listed some of the countries to include Mexico, South Africa, Thailand, Greece, Brazil, Kenya, Ghana, Senegal, Rwanda, among others.
He said that the countries had indicated interest to participate in the 2018 edition of the carnival.
The chairman also mentioned some of the states to include Kano, Nasarawa, Anambra, Imo, Kaduna, Benue, Akwa Ibom, Kogi Enugu and others.
Onah said that the carnival brought tourists from all over the world to the state.
According to him, Calabar has been the melting point of Africa's hospitality due to its diverse tourism events and sites, the green environment and the warm hospitality of the people.
"The 2018 edition of the carnival will play host to over 30 countries and 25 states. Most of the countries will have their own band on Dec. 29, scheduled for the International Carnival.
"Top of our priority is security. I can assure tourists coming in for the event of adequate security because we are liaising with security agencies to ensure we have a peaceful and fun-filled celebration.
"Calabar carnival is a platform that has made itself a template to measure any beautiful art of festival or tourism product because all the ingredients that make for a tourism product are present here.
"The carnival is a pull factor that brings visitors and tourists alike to the clean and beautiful city of Calabar. The value of any event of this nature is seen through the socio-economic impact on the people.
"See the number of hotels that have sprang up since the last carnival; the number of people on the streets; the buying and selling and exchange of contacts and all of that,'' Onah said.
He said that the costumes for the carnival were now locally-made, saying that the carnival band leaders were in partnership with the state garment factory to look inward for the production of the costumes.
Onah said that with 50,000 revelers on the street of Calabar during the carnival, the garment factory could not afford to wish for a better market.

Load more