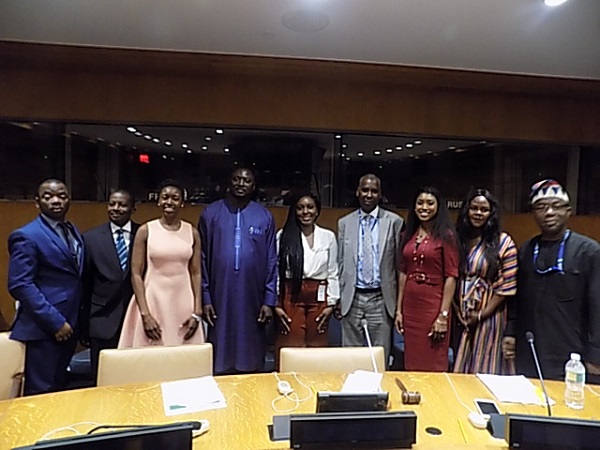 Nigeria has an estimate of 1.3 million children who are critically disabled out of an estimated 25 million people with disability, the Permanent Representative of Nigeria to the UN, Prof. Tijjani Bande, has said.
Bande said this at a UN Panel on: "Special Education: A model for Sustainable and Inclusive Education in Developing Countries''.
The event was organised by the Permanent Mission of Nigeria, in collaboration with the The Gambia, and United Nations Global Compact.
According to the world report on disability by the World Health Organisation, about 15 per cent of the world's population lives with some form of disability, with two to four per cent experiencing significant difficulties in functioning.
"In Nigeria, more than 25 million people are estimated to be affected by one disability or another, out of which three million are critically disabled.
"Extrapolation from this figure for children with special needs will result in an estimated population of 1.3 million, a very high number indeed.
"In addition to the commitment to the Convention on the Rights of the Child, Nigeria has a robust national policy on education which has inclusive education, as an integral part and being subjected to periodic reviews to meet changing realities''.
He said the National Policy on Inclusive Education had been finalised by the Ministry of Education, adding that the National Policy on Education 2014 and the earlier Universal Basic Education Act of 2004 laid great emphasis on special education.
"Consequently, the government has allocated two per cent from the Consolidated Revenue Fund to the UBE Commission to support states in the country to cater for the education of children with special needs.
"Disbursement of this fund to State Universal Basic Education Boards and some private schools commenced in 2005.
"Government has also started the implementation of a pilot programme on inclusive education in three states in the country,'' he said.
The Nigerian envoy said that in 2016, a national dialogue on inclusive education was convened where all stakeholders agreed on a whole range of measures to scale up interventions for special needs education.
"It is instructive to inform you that our government has long realised the inherent potential of children with special needs and the urgent need for a tailored educational programme.
"It has established, for example, Special Colleges of Education in various parts of the country to enhance the educational opportunities available to this category of children,'' he said.
Ms Valerie Igbinoghene, an advocate for human and community development initiatives in developing countries, regretted that children with extreme disability faced stigma in developing countries.
Igbinoghene, a former Adviser at the Joint Office of The Commonwealth Observer Mission to the UN, stressed the urgency to drive special and inclusive education in schools in developing countries.
"It is needless to say that there exist an importance and urgency to drive special and inclusive education in schools in developing countries, and in particular Africa.
"This is due to current stigma facing children challenged with developmental impairments as certain cognitive disabilities have yet to become ingrained in the fabric of the respective communities that make up the region."
Dr Mamadou Tangara, Minister of Foreign Affairs of The Gambia, said people with disability in Africa were usually associated with a lot of other issues that were not related to any medical condition.
Tangara said: "they think that these are people possessed with demons, and usually we tend to just take them to the streets to beg, whereas we have ways and means we can deal with them.
"We can try to create a better life for them on very simple things, the most important thing is to rise up to the challenge and try to find solutions to some of the problem."

Load more