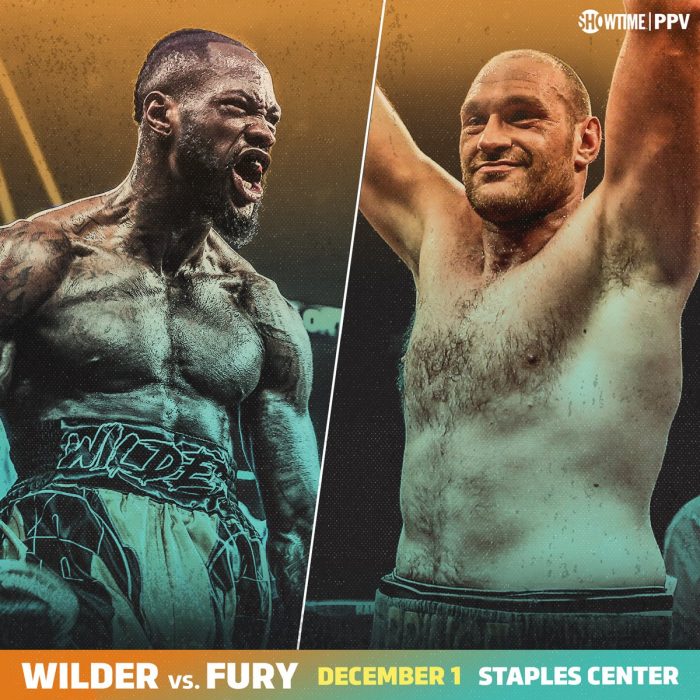 By Kazeem Ugbodaga
The day has finally arrived. Deontay Wilder, popularly known as the 'Bronze Bomber' is putting his WBC Heavyweight crown and his unbeaten run at stake against Tyson Fury, the challenger, who has also never lost a fight.
The big fight of the decade will be live on SHOWTIME PPV® Saturday night from STAPLES Center in an event presented by Premier Boxing Champions. Thousands of tickets have been sold out, the expectations are high. The fight will be more interesting following intrigues, brawls, clashes in the build up to the fight by both Wilder and Fury.
Unarguably, Wilder, 33, is the 'baddest' boxer in the heavyweight division and the most feared, having churned a record of 40 fights with 39 knockout and no loss. This makes him possibly the "greatest puncher of all time." His right hand is a 'bomber' as his nickname suggests. Wilder is  a heavy puncher and always run wild in the ring with his unpolished and crude style of fighting.
On the other hand, Fury, 30, has 27 professional fight with 19 knockout and no losses. He is the giant of boxing. His height, 6ft 9in and huge body give him advantage over opponents. He is certainly a tough nut to crack. His toughest fight so far was when he defeated Wladimir Klitschko in 2015 by split decision. Since then he slumped into depression and came back to win over a lesser opponent last year, but standing in the way of Wilder is a true test of his gut.
In the build up to this fight, Fury came in three stone heavier than Wilder as both men were kept apart ahead of their WBC heavyweight title fight. After things boiled over at Wednesday's press conference, security was beefed up and there was no such repeat of the ugly fracas, both men keeping their cool as they weighed in.
Fury fans were out in full force in sunny Los Angeles and 'The Gypsy King', who arrived in style hanging out of a jeep, was all smiles as he hit the scales at 18st 4lbs. Unbeaten WBC champ Wilder, wearing a mask, followed him and came in at a trim 15st 2lbs, the lightest he has been since he made his professional debut in 2008.
The unbeaten pair were then kept a good distance apart and not allowed to engage in a close-up staredown, despite a topless Fury bellowing at his man.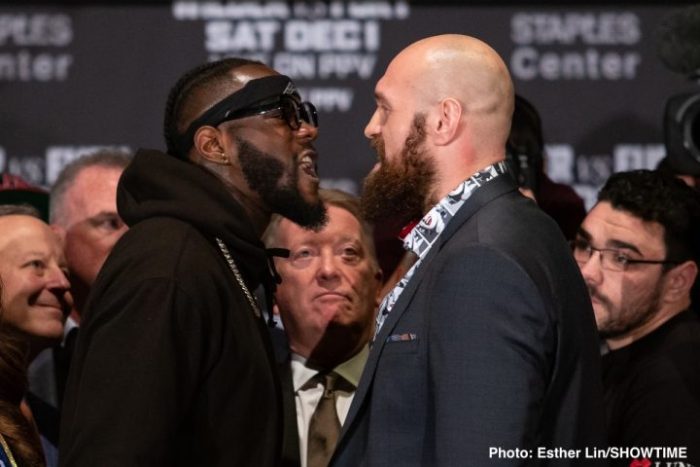 'The Bronze Bomber' kept his cool outside of the Staples Center and afterwards once again promised a knockout win.
"Talk is cheap, tomorrow (Saturday) is time, actions speak louder than words," Wilder told Showtime PPV.
But a boastful Fury said "Tomorrow, I get to release everything that is inside of me. Definitely this the most important fight of my career, I've fought tougher guys than him.  This is just another step of me getting to where I want to go. I'm gonna knock him out."
The big fight is the talk of the town. All over Los Angeles, expectations are high, the fight will certainly be value for money.
Former heavyweights are divided over who's going to win as reported by Boxing News 24.
LENNOX LEWIS
"I think it's going to be a great fight. Deontay Wilder has a terrific right hand and when it lands, not too many people can stand up to it. I also think that you can't hurt what you can't hit. Tyson Fury is not an easy person to hit. He has great ability and movement. I'm going with Deontay early or Fury late.
"We all know how it feels to lose the heavyweight championship. We know how hard it is to gain it back. Fury has lost it, and now he wants it back. I can see now that he's sacrificing and saying to himself that he shouldn't have lost it, and now he has to regain it.
"I think the view in the U.K. is that Tyson Fury is the man that stepped up. The gauntlet was thrown out there and he stood up for Britain. Deontay came to England to challenge Anthony Joshua, but it was Tyson Fury who answered the call.
"I would say that there are a couple of meccas in boxing that are places where everyone wants to fight. Las Vegas, New York and of course, Los Angeles. My fight against Vitali Klitschko at STAPLES Center was a great fight. My plan that night was not to box to go the distance, I boxed to go a short distance and it did."
RIDDICK BOWE
"I'm going with Deontay Wilder tomorrow night. He's going to put on a great show for everyone and get another knockout.
"Tyson Fury is skilled and tall, but to me, he doesn't do enough on offense. He moves but he doesn't move his hands enough."
EARNIE SHAVERS
"Me and Deontay are both from Alabama. I'll be inducted into the Alabama Sports Hall of Fame soon and Deontay will be there one day as well. Deontay is a great puncher and I'm pulling for him tomorrow night.
"I fought in a great era. If you fight guys on the same level, you'll get good fights. These guys today could get in there in our day and put on a good show."
BUSTER DOUGLAS
"I think this is going to be a good competitive fight. If I had to pick, I'd take Deontay Wilder by knockout in the eighth round.
"I feel like Tyson Fury has already won by battling back and getting into great shape and being in this position. I'm sure many people thought they'd never see him back here. That's a victory in itself.
"My victory over Mike Tyson changed my life in a great way. I was now the heavyweight champion of the world. My dream had come true. Seeing my two youngest kids being born was the only thing that could top it."
MICHAEL SPINKS
"May the best man win. I don't know who's in the best of shape but I think Fury being out of the ring makes me lean toward Deontay Wilder. If Fury is as big in person as they say he is, he's got a great chance.
"If you're the underdog, you just have to go on what you know and what you've worked on. You can't pay attention to the doubters. You focus on what you've prepared yourself for and give it your all. I always saw myself winning. It's the greatest feeling to come out of the ring victorious."

Load more