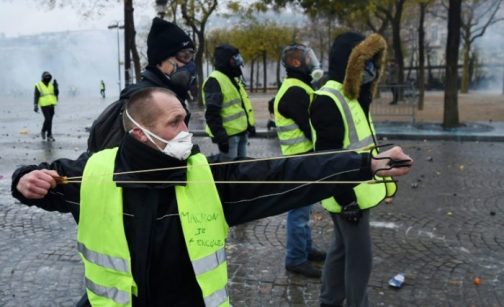 French riot police used teargas and stun grenades and water cannon on Saturday against protesters clad in fluorescent yellow trying to break through security cordons at the Champs Elysees in Paris.
A Paris police spokeswoman said 60 people had already been arrested.
Officials fear far-right and far-left groups plan to infiltrate the yellow vests movement, a popular rebellion against diesel tax hikes and the high cost of living.
Today's protest was the third rally against high living costs.
For more than two weeks, the "gilets jaunes" (yellow vests) have blocked roads in protests across France, posing one of the largest and most sustained challenges Emmanuel Macron has faced in his 18-month-old presidency.
In Paris, masked and hooded protesters picked up and hurled crowd barriers and other projectiles in running battles with police on and around the world famous Champs Elysees boulevard.
Others erected their own barricades and set them alight in some of the streets adjacent to the Champs Elysees.
Three policemen and seven protesters had been injured, spokeswoman Johanna Primevert said.
"The thugs are a minority and have no place in these demonstrations," government spokesman Benjamin Griveaux told LCI television.
Several hundred yellow vests sat down under the Arc de Triomphe at the top of the Elysees, singing La Marseillaise, France's national anthem, and chanting, "Macron Resign!"
On the facade of the towering 19th-century arch, protesters scrawled in big black letters: "The yellow vests will triumph."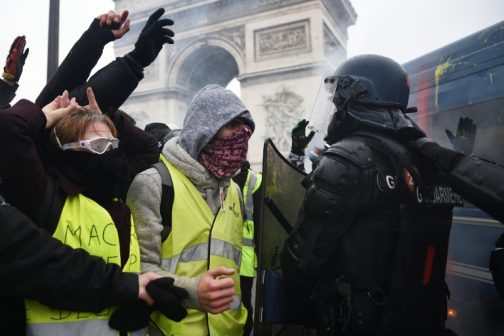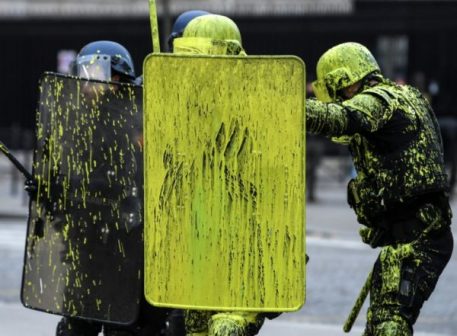 By mid-morning, police estimated some 2,000 protesters were in the roads around the Champs with rioters and peaceful protesters mixed together. Police unions said across France there were some 31,000 protesters and 582 blockages.
A week ago thousands of protesters, who have no leader and have largely organized themselves online, converged on Paris for the first time, turning the Champs Elysees into a battle zone as they clashed with police firing tear gas and water cannon.
"What message do the yellow vests want to pass today? That we set France on fire, or find solutions? I find this (violence) absurd," Jacline Mouraud, a prominent activist within the yellow vests movement, told BFM television.
But a retired yellow-vest protester said: "The government is not listening. Revolution cannot happen without violence."
Macron said on Tuesday he understood the anger felt by voters outside France's big cities over the squeeze that fuel prices have put on households, but insisted he would not be bounced into changing policy by "thugs".
The outburst of anger is strongest in smaller towns and villages and in "banlieues" – gritty suburbs of major cities plagued by unemployment and deprivation, and underlines the gap between metropolitan elites and working class voters that has boosted anti-establishment politics across the Western world.
The immediate trigger for the protest wave was Macron's decision to raise tax on diesel fuel in a move to encourage the driving of less-polluting cars.
The yellow vests take their name from the high-visibility jackets all motorists in France must carry in their vehicles.
Ahead of Saturday's protests, workmen erected metal barriers and plywood boards on the glass-fronted facades of restaurants and boutiques lining the Champs Elysees, which was closed to traffic with pedestrians funneled through checkpoints.
"There's a lot of incitement on social media and we are expecting excess and violence," David Michaux of the UNSA Police union told Reuters.
Three formal demonstrations were planned across Paris on Saturday, including a union protest against unemployment and a separate rally against racism.
For now, the "yellow vests" enjoy widespread public support.
When they began, the protests caught Macron off-guard just as he was trying to counter a fall in his popularity rating to 30 percent. His unyielding response has exposed him to charges of being out of touch with ordinary people.

Load more