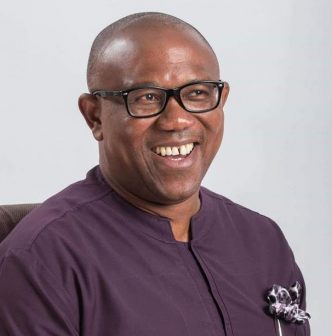 Father Ejike Mbaka, the chief priest of the Adoration Ministry in Enugu has declared that the PDP Presidential Candidate, Atiku Abubakar and his running mate, Peter Obi, will fail in their bid to unseat incumbent Muhammadu Buhari in next year's election.
Mbaka made the declaration on Sunday, in a video that has now gone viral and also triggered some backlash for the controversial priest, who also predicted the failure of former President Jonathan's bid for re-election in 2015.
Mbaka's prediction this year that Gombe governor, Ibrahim Dankwambo will be the next president of Nigeria, had already failed, as the man did not clinch the PDP ticket.
Mbaka announced the curse on Atiku and Obi after Obi, notorious for being stingy, refused to pledge anything to support Mbaka's church.
The priest declared: "The way you and Atiku are moving will end in shame".
But in another video, out of the church, Senator Hope Uzodinma, pledged on behalf of President Muhammadu Buhari to build a hospital to serve the ministry.
Watch the two videos posted by Laila Ijeoma:
Viral video of Father Mbaka saying Atiku and Peter Obi would fail as Obi refused to declare how much he'll support Mbaka's ministry with. pic.twitter.com/E42o0fiRLK

— Laila Ijeoma (@LailaIjeoma) December 3, 2018
Hope Uzodinma promised Father Mbaka, a first class hospital on behalf of President Buhari. pic.twitter.com/WNeCNqLztS

— Laila Ijeoma (@LailaIjeoma) December 3, 2018
The Obi-Mbaka video has triggered derisive reactions on Twitter, with some expressing disappointment with Mbaka.
Maria Ude Nwachi
@MariaUdeNwachi
VIDEO: Father Mbaka & Peter Obi.
TEARS! I could not finish this video. I am a huge fan of Father Mbaka, but what he displayed here was totally not like the man I completely adore. IT TAKE COURAGE TO WATCH… https://www.facebook.com/MariaUdeNwachi.BCEL/videos/2251500555172860/ …
4
11:25 AM – Dec 3, 2018
Twitter Ads info and privacy
See Maria Ude Nwachi's other Tweets
Twitter Ads info and privacy
Jerry
@Jerry13430735
Seems Father Mbaka's prophecy are to the highest bidder! What correlation has Donations to Church with winning or losing an election? Peter Obi showed he knows the principles of the Bible more than Mbaka pic.twitter.com/TJ0XTBuSd9
50
5:35 PM – Dec 3, 2018
Twitter Ads info and privacy
24 people are talking about this
Twitter Ads info and privacy
#Atiku-Obi
@Obynopato
Replying to @LailaIjeoma @Baddman20
So Mbaka is now using his church as business venture… the FAIL he is saying look so much like him… he has failed as a priest and the Obi had achieved a good name as the former Gov of Anambra state..
SHAME ON FATHER MBAKA !!!!!
10
2:25 PM – Dec 3, 2018
But another commentator reminded Twitterati that Father Mbaka was doing nothing unusual, as he was only following the footsteps of Winners Chapel founder David Oyedepo, who constantly preaches hate against Buhari, candidate of the All Progressives Congress:
Onyebuchi
@onyebuchind
You are calling out father mbaka for what he said about Peter Obi and Atiku, but you are supporting Bishop Oyedepo for what he said about Buhari being dead and replaced with Jubril. @jeffphilips1
141
6:12 PM – Dec 3, 2018

Load more