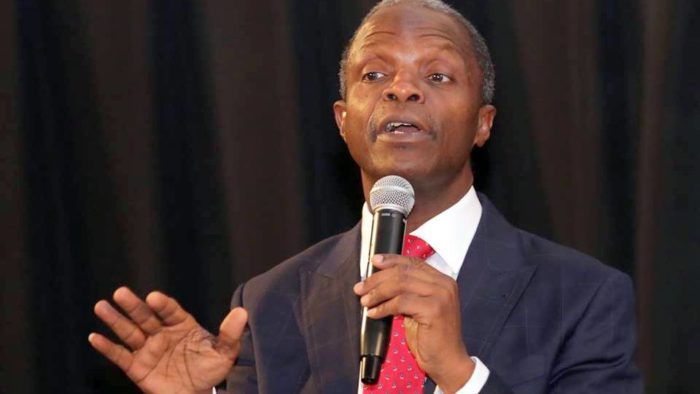 The Nigerian Vice President, Prof. Yemi Osinbajo, has said that Family Planning will put a check on the current high-fertility rate and help achieve efficient population management.
According to him, investment in Family Planning (FP) has been proven to be smart, cost effective and life saving.
Osinbajo made this known at the fifth Nigerian Family Planning Conference on Tuesday in Abuja.
Represented by the Minister of Health, Prof. Isaac Adewole, the vice president noted that one of the main issues identified in the demographic dividend roadmap was the need to evolve a nationwide FP programme which would eliminate the unmet needs for modern contraception.
According to him, the theme of the conference, investment, innovation and inclusiveness are very critical keys for unlocking the beneficial contributions of FP to Nigeria's ambition of reaping the potential of demographic dividend.
Osinbajo also said that Nigeria's optimal age structure would mean a combination of declining fertility and a simultaneous rise in the working age population, adding that the challenge is with the country's current fertility rates.
He further said that the estimated 63 per cent of the total population was below 25 years of age with a significant segment of the population being sexually active.
He said "such needed education and guidance to wisely navigate the issues of sexuality as well as choice and contraception.
"We must see innovation in our approach to FP in the 21st century in a world driven by the internet and digital technologies.
"Innovation generally speaking has attained even greater significance and must apply to the ways in which we make and implement our family planning policies.
"And to make our efforts count, we must put greater emphasis on evidence based approaches to decisions we make as government, financial institutions and civil society organisations.
"If Nigeria's prevailing annual population growth rate of 3.2 per cent persist, we will have an additional 68 million people by 2030 and making the nation the third most populous country in the world by 2050.''
Osinbajo therefore said that achieving SDG and sustainable development by 2030 depended significantly on how well sexual and reproductive health rights of women and young people are patronised.
He noted that inclusion of young people in policies and deployment of resources would help in achieving the optimal goal.
He also urged the delegates to evolve innovative ideas in finding solutions to achieving Family Planning targets, NAN reports.

Load more