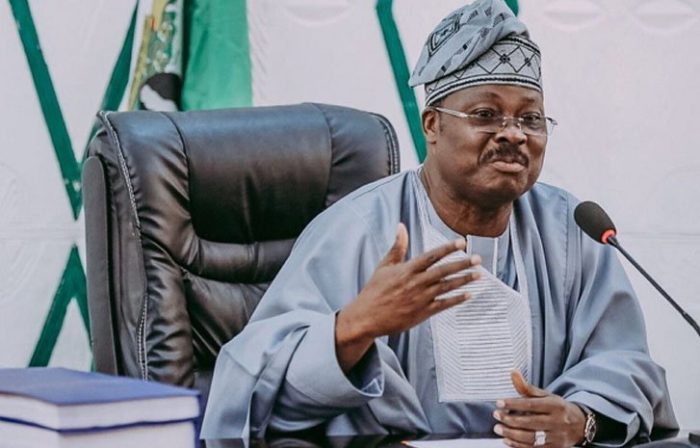 The Central Council of Ibadan Indigenes (CCII) said it decided to celebrate with Gov. Abiola Ajimobi on his 69th birthday coming up on Dec. 16 because he had fulfilled most of his electoral promises to the people of Ibadan.
The President-General of the council, Chief Yemi Soladoye, disclosed this in an interview with newsmen in Ibadan on Wednesday after he had announced the schedule of activities to mark the Oyo State Governor's birthday.
Soladoye, who inaugurated a 30-man committee to oversee the birthday ceremony, said that the event was being organised "to say thank you to Gov. Ajimobi and set the pace for others''.
"The event of Sunday 16th December 2018 is to serve three major purposes.
"First is attitudinal re-orientation of our people; the second is warning to our politicians that 'The Big Brother is Watching', and three, that Ibadan will henceforth hold its political office holders accountable.
"Ibadan is made up of one people occupying one city, 21 towns and 1,681 villages in South- West Nigeria but the spirit of oneness and gratitude is largely compromised."
The president-general further said that the event would feature the commissioning of the book 'Koseleri' the Unimaginable as well as the institution of Abiola Ajimobi Foundation for Advanced Democracy (AFAD).
"A few of the promises extracted from him in 2012 and had been fulfilled are zero tolerance for political violence and destruction of lives and property in Ibadan land; funding of the Olubadan palace projects through donations from Gov. Ajimobi and his friends; and the Ibadan circular roads; among other requests.
"Despite the facts and justification for us as a rational human being to thank Gov. Ajimobi for fulfilling some of his promises to us, our people have started saying we are APC or this is about his senatorial ambition.
"CCII did not organise any ceremony for him before becoming Governor in 2012 and before his second term in 2015; we are only showing appreciation and setting the pace for the next governor in Oyo state that he must have Ibadan agenda and the agenda must be fulfilled," Soladoye said.
The birthday ceremony is scheduled to hold at the International Conference Centre, University of Ibadan with eminent personalities expected to grace the occasion.

Load more