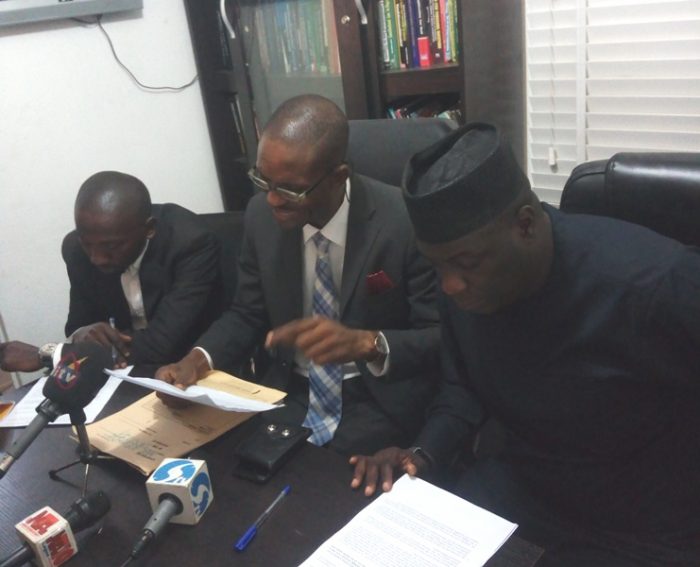 Son of late industrialist, Kehinde Sanusi has vowed to sue the police and his sibling for damaging his reputation and character through malicious prosecution
Kehinde Sanusi is one of the sons of the famed iron and steel merchant, the late Alhaji Abdul-Rasak Sanusi who died on 1 August, 1997, leaving behind a will which has generated disputes and divisions among family members over the estate of the deceased snowballing into several lawsuits in various courts in Nigeria.
At a news conference on Thursday, Kehinde's client, Bar. Ajose Abejoye his client had been defamed by the police and his half sister, Mrs. Bimbo Sanusi–Lawal through malicious prosecution.
"It is pertinent to state that Mr. Kehinde Sanusi was and is never a party to any of the said suits. His interest in the midst of the multiple lawsuits was and is for family members to settle amicably in the interest of the family name and legacy of the late iron and steel merchant," he said.
Abejoye alleged that 17 years after the death of the late iron merchant, on 16 October 2014 to be precise, Kehinde received a telephone call that some policemen from Zone 2, Command Head Quarters, Onikan, Lagos, stormed and forcibly gained entrance into one of the family properties, Sanusi Rubbers Works Limited, located at Akani Doherty Street, off Oba Akran Way, Lagos, with the sole purpose of arresting Kehinde's elder brother, Mr. Suleiman Sanusi.
"Immediately, Mr. Kehinde proceeded to the said property in order to ascertain the reason for his brother's arrest. The police who had already arrested his brother, refused to entertain any question from Mr. Kerhinde Sanusi. They only maintained that the order to arrest his brother came from above.
"Mr. Kehinde Sanusi had to follow the police and his arrested brother to Zone 2 Command headquarters. At zone 2, the police officers informed me that there was a petition against me, Mr. Suleiman Sanusi and four others by Bimbo Sanusi for allegedly stealing N2 billion Naira," he explained.
The legal practitioner added that Kehinde told the officers that he only knew one Falilat Abimbola Sanusi-Lawal who, at that time, was not residing in Nigeria, but that the said officers requested that Kehinde should write a statement and that while he was writing, his lawyer who came to the police station was informed that he (Kehinde) would be released after taking down his statement.
After writing the state, he said Kehinde and his brother, Suleiman were detained overnight and were later hurriedly taken to Igbosere Magistrates' court without the knowledge of their lawyers, adding that on arraignment, they were charged with offences different from the ones contained in the petition upon which the police arrested them
"While Mr. Kehinde and his brother were arraigned in Charge A/43/2014 on a count of willfully disrespecting the order of a High Court of Lagos State in Suit No: ID/904M/2002: MR. SULAIMON SANUSI AND 2ORS V. MR. ABDULMAJEED ABIODUN SANUSI & 2 ORS the petition upon which they were arrested was for an alleged stealing of N2 billion Naira. It is instructive to note that Mr. Kehinde Sanusi was not charged with unlawful possession of firearms in Charge A/43/2014 or any other Charge," he explained.
"In the course of trial in Charge A/43/2014, it was reported in major print and electronic media, and in particular, the Punch newspaper of 14 April 2014 at page 15 that the presiding Magistrate accused Mr. Kehinde Sanusi and His brother of threatening her life. It is instructive that the world knows that the presiding magistrate never accused Mr. Kehinde Sanusi of threat to her life. Mr. Kehinde Sanusi is a peace-loving person and could not have threatened anybody's life.
"However, when the Director of Public Prosecution perused the case file in Charge No: A/43/2014 and the evidence relied upon by the police was baseless, advised that Mr. Kehinde Sanusi be discharged. Further to the advice of the DPP, on 27 May, 2015, Mr. Kehinde Sanusi was discharged of the allegation of disobeying court order," he said.
Based on the maltreatment of his client, Abejoye he had been instructed to take legal action against the police and Kehinde's sibling, Sanusi-Lawal.
"Although the truth has been revealed and Mr. Kehinde Sanusi has been vindicated as a just and honest person, his victory came at a very heavy cost, having been brandished in the press as a common criminal. Mr. Kehinde Sanusi has also been oppressed and harassed by the police who informed Mr. Kehinde Sanusi that they were acting based on the petition dated 2nd October 2014 written on behalf of Mrs. Bimbo Sanusi–Lawal and other executors of the estate of late Alhaji ARO Sanusi," he said.

Load more