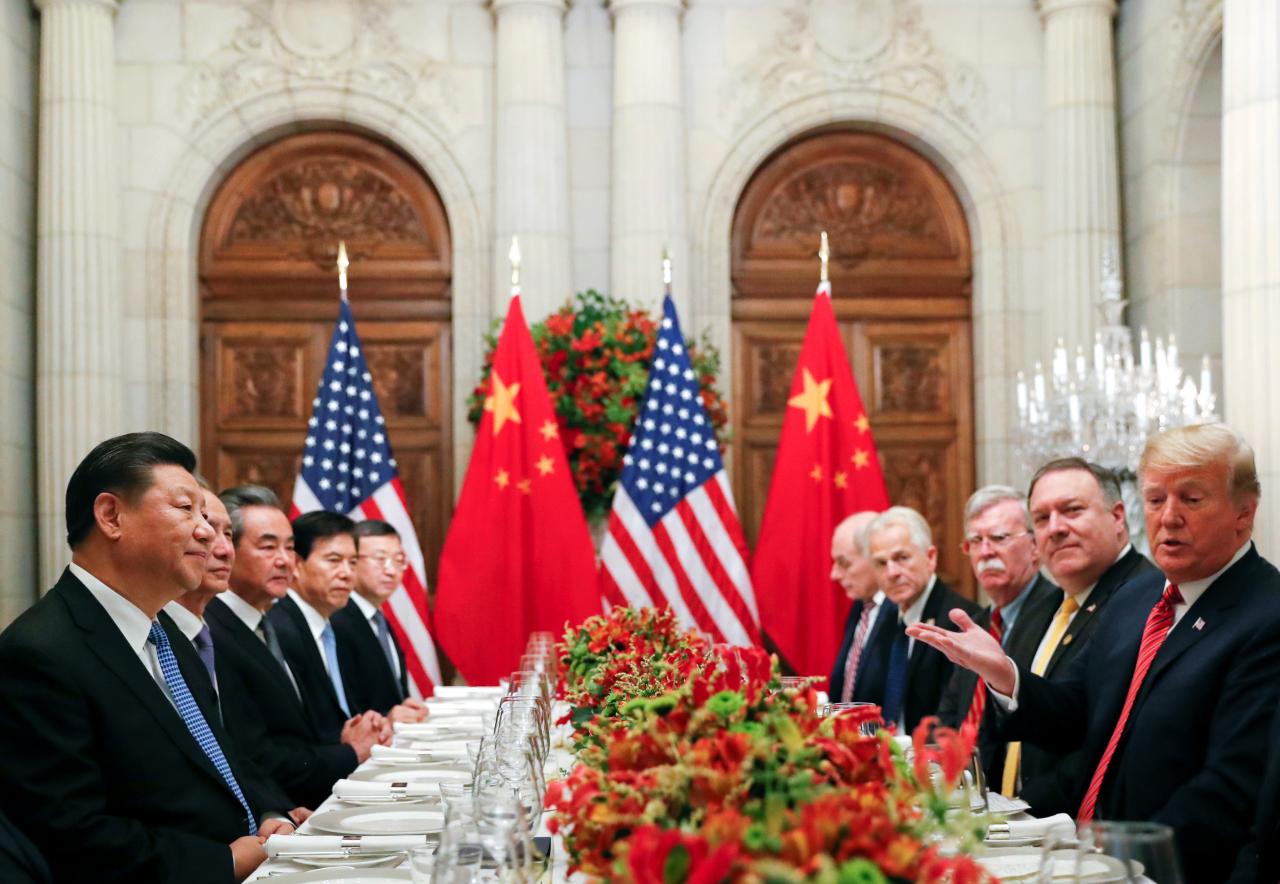 China on Thursday expressed confidence in striking a trade deal with the U. S. within their 90-day ceasefire period, praising the recent meeting between U.S. President Donald Trump and Chinese President Xi Jinping as highly successful.
On Dec. 1, in Argentina, Trump and Xi agreed to a truce that delayed the planned Jan. 1 U.S. hike of tariffs to 25 per cent from 10 per cent on 200 billion dollars of Chinese goods while they negotiate a trade deal.
"We are very confident in reaching an agreement with the United States within the next 90 days," China's commerce ministry spokesman Gao Feng said in a weekly briefing.
Gao added that both sides have been communicating and cooperating "smoothly" since the leaders met in Argentina.
"China's ultimate goal during the 90-day trade talks is to remove all U.S. tariffs imposed on Chinese goods,'' Gao said.
His comments came as the arrest of a top executive of Chinese tech giant Huawei by Canadian authorities, on Washington's request, threatens to spark a flare-up in tensions between the world's two economic powerhouses once again.
The two countries have hit each other with tit-for-tariffs on goods worth hundreds of billions of dollars in sectors from automobiles to agriculture and energy, stymieing trade and redrawing global supply chains.
Gao confirmed for the first time since the high-stakes meeting that China had agreed to implement the consensus reached by both sides on agriculture, energy and cars, although he did not give details on any specific measures.
"We will start with agricultural products, energy, automobiles to immediately implement the issues that the two sides have reached consensus.
"Then, in the next 90 days, we will follow a clear timetable and roadmap to negotiate on issues such as intellectual property right protection, tech cooperation, market access and trade balance," he said.
He stressed the consultations should be based on meeting the interests of both parties.
The White House has said China had committed to start buying more American products and lifting tariff and non-tariff barriers immediately while beginning talks on structural changes with respect to forced technology transfers and intellectual property protection.
The U.S. has levied additional duties of between 10 per cent and 25 per cent on 250 billion of Chinese goods this year as punishment for what it calls China's unfair trade practices.
However, China has responded with its own tariffs.
"China and United States have reached very important consensus as both sides' interests overlap," Gao said.
His comments echoed earlier remarks made by senior Chinese diplomat Wang Yi, who said the meeting was "friendly and candid" and would help to avoid further trade tensions.
"All of these help to safeguard China's legitimate interests, and are also in the interests of the United States, and even more are in line with the expectations of the international community," he added.

Load more