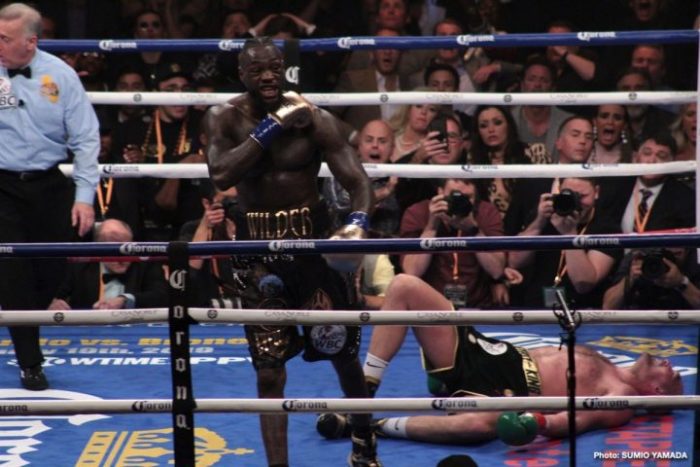 Deontay Wilder (40-0-1, 39 KOs) says he's not sure if referee Jack Reiss gave challenger Tyson Fury a long count or a delayed account that started 3-4 seconds after he was knocked down in the 12th round last Saturday night in their mega-fight at the Staples Center in Los Angeles, California.
From What Wilder observed in the 12th round, Fury looked like he was out cold, and the referee gave a count to a fighter that looked like he should't have been given one. Reiss' decision to give the unconscious-looking Fury a count instead of just stopping the fight immediately in the 12th ultimately saved the former IBF/WBA/WBO heavyweight champion from suffering his first loss of his career.
"Did the count start 3-4 seconds too late or was the count too long is the question many are asking and debating about," Wilder said via ESPN.
In the minds of a lot of fans, it's not so much the question of whether the referee Jack Reiss gave Fury the benefit of a long count or a delayed count after his 12th round knockdown by Wilder, it's the fact that there was a count given at all. Fury looked out cold and badly hurt. What was referee Reiss thinking in giving a count to a fighter that was obviously very hurt. It looked like something out of an old movie where a referee is giving a count to a fighter that has been knocked clean out.
Ultimately though, Reiss choosing to give Fury a count after he was knocked down in the 12th made it possible for the wheels to be set in motion for a rematch. Had Reiss did the logical thing and stopped the fight in the 12th round when Fury was dropped by Wilder, then there would be no reason for a rematch to take place. Wilder would have been the winner, and Fury just another knockout victim on the Bronze Bomber's resume.
Fury would be known a KO victim #40 instead of someone that has been complaining to the boxing media that he was robbed of a victory over Wilder. With the controversy surrounding last Saturday's fight, there's enough interest from the boxing public to want to see a second fight between these two heavyweights. It would be a good idea for the controversy to end with the second fight. It would be bad if the rematch is controversial just like the first fight. There need to be a clear winner the second time around.
It looked to most boxing fans that Wilder had won the fight when Fury was lying on the canvas not moving after being dropped in the 12th. Fury's argument that he should have been given the win by the judges has fallen on deaf ears with the fans, who are saying to themselves, 'Fury should have been knocked out in the 12th. The referee blew it by letting the fight continue with a fighter that badly hurt.'
Wilder says there's no way that Fury deserve a victory over him last Saturday night, being that he failed to beat the champion in a fashion that a challenger is supposed to in order to get a win.
"To beat the champion you must dominate the champ and to me I was the more aggressive fighter and landed the more effective punches," Wilder said. "You saw the best Fury but you did not get the best Wilder and I still managed to get the job done."
Wilder's remark about not being the best version of himself possibly is aimed at his recent revelation that he had suffered a broken right hand 12 weeks before he started training camp for the Fury fight, and that he hadn't been able to use the hand during camp for fear he would hurt it again. Wilder was using his right hand in the Fury fight, but he was rusty from not having trained with the hand. Wilder says a Fury rematch will be a lot easier because he'll be healthy the second time around.
Fury says, "The World knows" about how he won the fight, but if that is the case, he did it in the weakest of ways by getting knocked down twice by Wilder and arguably being saved from a knockout by a referee that let the fight continue when it should have been stopped in the final round. The only thing the world knows is there's a lot of controversy surrounding last Saturday's fight between the two large heavyweights, and the only way to clear up the controversy is for them to face each other again.
"I can't wait for #WilderFury2 to end the controversial talk once and for all," Wilder said on Instagram.
It's good that Wilder wants to fight Fury again. Things would be much harder if Wilder was calling out Anthony Joshua and pushing for a fight against him on April 13. Not only would Wilder be ignoring the boxing public's wishes for him to face Fury again, but he would also likely be wasting his time by trying to fight someone that would be almost impossible to negotiate a fight with in Joshua. Promoter Eddie Hearn said that Wilder would deserve only a 70-30 purse split for the Joshua fight if the Wilder-Fury contest brought in less than 400,000 PPV buys.
As of Wednesday, the estimated PPV buys for the fight is approximately 300,000, according to RingTV. That's well within the 400,000 PPV buys Hearn said would result in him only offering Wilder a 70-30 split. For Wilder to get a 60-40 split, he would have had to knockout Fury and bring in 500,000 buys, said Hearn. As you can see, there's no chance of a fight between Joshua and Wilder is going to take place as long as Hearn is insisting that Deontay bring in huge numbers on PPV. Those two heavyweights are going to need to stay in their separate lanes until a time in the future when Hearn is ready to give Wilder a purse split that reflects parity.
In the aftermath of the fight, it's come to Wilder's attention that a lot of boxing fans think Fury should have won. For that reason, Wilder wants to put a stop to the "controversial" talk from the boxing fans "once and for all."
-Boxing News 24

Load more