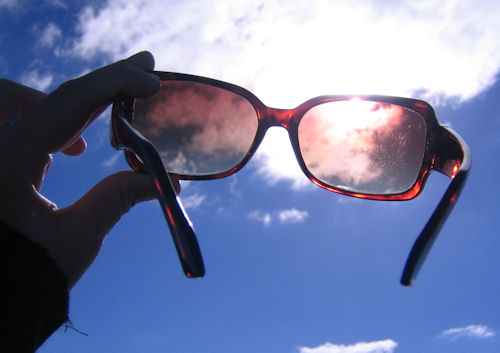 Dr Emeka Ossai, an Ophthalmologist, at the Arema Eye clinic Enugu, has recommended use of sun shades during the dry season to reduce the spread of conjunctivitis which is an airborne disease.
Ossai gave the advice on Friday, in Enugu.
He said the purpose of the sunshade was to reduce the effect of sun on the eyes.
"Sunglasses help to reduce the emission from the rays of sun, which also reduces the effect of ultra radiation of the sun.
The Ophthalmologist said that it was healthy to use sun shades especially now that the dust has increased due to change in weather condition.
According to him, conjunctivitis is caused by bacteria, and it is an airborne disease, which can be highly contagious.
The demand for sun shades has increased in Enugu, as many residents express fear of contacting conjunctivitis, an eye disease generally called appollo.
Most sunglass shops were seen making brisk businesses, as many customers who wanted to prevent themselves from contacting the eye disease, flooded their shops.
Some residents came to Ogbete Market to purchase the glasses said that 'prevention is better than cure.
They added that the pain and the discomfort from 'Apollo' were too severe for somebody to be careless over his or her eyes.
Mrs Vivian Ude, a banker, said she had to purchase the sunshade to prevent the eye disease because she works in a bank where many people come in for transaction.
"I am a banker and every day I come in contact with many people who come to the bank to transact one business or the other, she said.
Miss Chidiogor Lebechi, a student, said that some of her fellow students had already been infected with the eye disease, saying that she was afraid of contracting same.
"Looking at the way my fellow students were lamenting due to the pain they are undergoing as a result of the 'Apollo', I decided to get sun shades for myself.
"I don't want to have such pain," she said.
Another buyer, Mr Innocent Ajuluchukwu, a businessman, said it was important for everyone to have sunglasses.
According to him, it will help to minimise the level of the sun and dust getting into the eyes, especially during dry season.
Some sellers of the shade expressed joy over the number of customers coming into their shops to buy the item.
Mr Ebuka Abba, a seller at Ogbete market, said that the last quarter of every year is usually good for sun shade glass dealers.
Abba explained that due to the dry season, which is usually characterised by dust, high degree of sun and sometimes 'Apollo' necessitated the increase in sun shade glass sales.
Mrs Agatha Uchechi, a seller, pointed out that the prices were affordable, saying it was based on someone's status, income and as well as the choice of a customer.
"In my shop, I have sun shade glasses ranging from N400 up to N8,000, depending on the customer's choice.

Load more