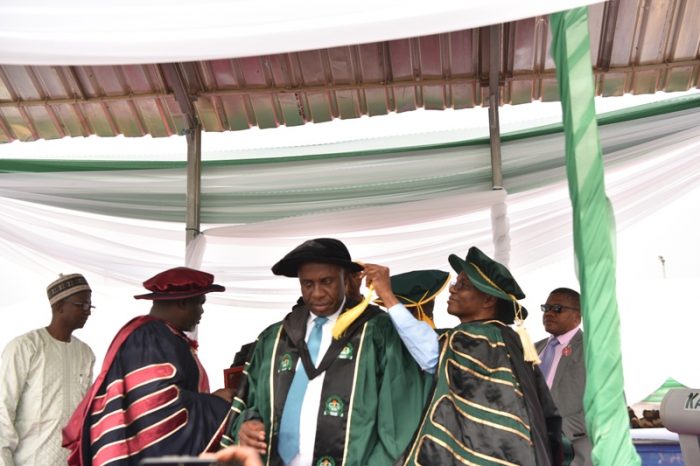 Minister of Transportation, Chibuike Rotimi Amaechi was among other dignitaries conferred with a honourary doctorate degree award by the Kaduna State University (KASU) on Saturday.
Amaechi was conferred with a honourary doctorate degree in Unity and Development.
Vice Chancellor of the school,  Prof. Muhammad Tanko said Amaechi and others were honoured for their remarkable contributions in nation building.
"All our four gentlemen for the honourary degree conferment are distinguished citizens of Nigeria. They are being honoured generally for their contributions to the Nigerian nation", he said.
Amaechi, the former Governor of Rivers State was known for his massive transformation in the education sector when he held sway as the State Governor between 2007 to 2015.
Similarly, as the Transportation Minister, Amaechi is leaving no stone unturned to bring about the desired turn around in the transportation sector.
The completion of Abuja-Kaduna Railway , the ongoing construction works on the Lagos-Ibadan railway as well as the Itakpe-Warri rail projects which are nearing completion are few of the numerous projects embarked upon by Amaechi.
Accepting the award, Amaechi thanked the institution and the Kaduna State Government for the honour.
He acknowledged the roles played by leaders at all levels in nation building and called on Nigerians at large to foster peace in their respective abode.
He said, " key to this speech is the role everybody has played in one way or the other in the unity of the country . It is critical and important that as a people we should realise that we need this country more than the country needs us. We need to live as one and as a people who understand that without this country we will not be here and most importantly key to development is the people".
"We must not also lose sight of the role of educational development in human growth. More than ten million children are out of school and this kind of institution affords us the opportunity to bring them to school. We need to provide infrastructure and we need to engage in feeding children in schools, when we do that we attract them to come to school to teach them and to be able to develop their minds."

Load more