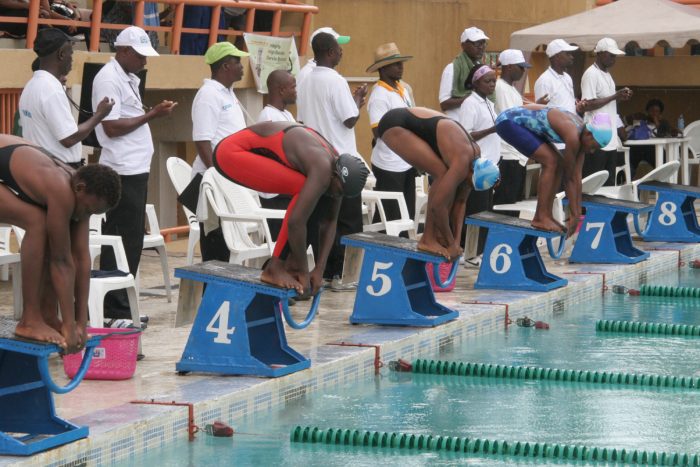 Team Delta to the 19th National Sports Festival (NSF) in Abuja on Sunday won seven gold medals while Balyesa clinched three silver medals on Day 2 of the swimming competition.
The News Agency of Nigeria (NAN) reports that Delta dominated the swimming events to leave the other states gaping at the ongoing fiesta.
In 400m individual medley women, Akiayefa Timipamere from Delta returned with a time 05:56.80 to take first position and claim the gold medal.
Gagbe Ifiezibe from Bayelsa had a time of 06:01.53 for the silver medal, while Faith John from Lagos took the bronze with a time of 07:09.14.
In the second event, the 200m individual medley men, Nmor Ifeakachukwu of Delta returned with a time of 02:22.98 for the gold medal.
Dino Ebarakumo from Rivers had 02:25.31 to take the silver, and Yellow Yeiyah from Kano returned 02:27.42 for the bronze.
In 50m breaststroke women, Iyadi Chinelo of Delta clinched the third gold medal for the state with a time of 35:43.
Racheal Tonjor from Rivers had 35:80 for the silver medal, while Doumtmi Okoko from Bayaelsa returned 37:27 for bronze.
In 50m butterfly men, Yellow Yeiyah returned 26:16 for Kano State to win its first gold medal.
Also, Nmor Ifeakachukwu from Delta with a time 26:54 won for the state a silver medal, while Confident Isobo from Rivers took the bronze with 27:33.
In 200m backstroke women, Timipamere Akiayefa of Delta won the state's fifth gold medal.
Ifezebe Gagbe of Bayelsa returned in a time of 02:57.8 to win silver and Febisola Adamolekun of Oyo took the bronze with 03:04.58.
In the 1500m freestyle women, Deborah Okpochini of Delta returned 21:05.10 for the state's sixth gold medal.
Ifiezebe Gagbe of Bayelsa had 21:45.37 for his state's fifth silver medal, while Oluchi Obi of Lagos took the bronze with 22:21.53.
In the event's 4x200m freestyle relay men, Team Delta won the gold medal with 08:55.75 and Team Kano with 09:05.54 took the silver medal.
Team Edo with 09:05.72 took the bronze and Team Bayelsa took the fourth position.

Load more