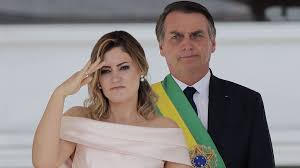 Brazil's newly inaugurated President Jair Bolsonaro, who was sworn in before a joint session of Congress on Tuesday, called on lawmakers to help him "free the nation definitively from the yoke of corruption, crime, economic irresponsibility and ideological submission", Reuters reports.
He vowed to tackle headlong corruption, crime and economic mismanagement.
He made the appeal in his inaugural speech before the Congress to demonstrate his determination to rid the Latin America's largest nation of the vices.
"This is the beginning of Brazil's liberation from socialism, political correctness and a bloated state," Bolsonaro, 63, said in an address to the nation made after he donned the presidential sash.
A seven-term congressman who spent decades on the fringes of Brazilian politics, Bolsonaro was swept to power in October by voters' outrage with traditional political parties, making him Brazil's first right-wing president since the dictatorship.
Voters punished mainstream parties following more than four years of graft investigations that laid bare the largest political corruption scheme ever discovered. Centrist parties were trounced, reshaping Brazil's political landscape and polarizing Congress.
Following a knife attack during the presidential campaign that left Bolsonaro hospitalized for weeks, security was tight for his inauguration. Some 10,000 police officers and soldiers were deployed on the streets of Brasilia, the capital, as Bolsonaro and his wife rode in an open-topped Rolls-Royce to Congress.
His voters are now impatient for Bolsonaro to make good on ambitious promises to tackle graft and violent crime and revive an economy still sputtering after the collapse of a commodities boom led to Brazil's worst recession on record.
As thousands of supporters, many with the Brazilian flag draped around their shoulders, chanted "the captain has arrived!," Bolsonaro launched into a fiery speech.
"We have the great challenge of taking on the effects of an economic crisis, of facing the distortion of human rights and the breakdown of the family. We must urgently end ideologies that defend criminals and penalise police", he said.

Load more