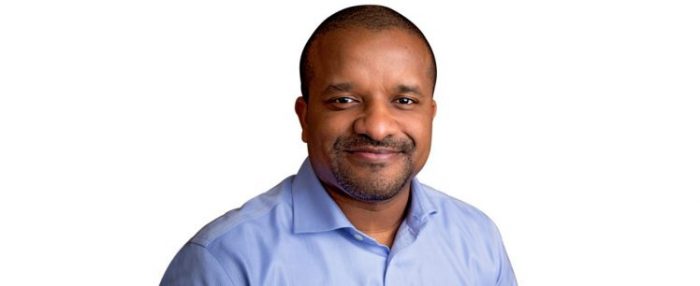 Chris Folayan is the CEO of Mall for Africa. In this interactive session at the World Retail Insight held in United Kingdom (U.K), he spoke about  operations of the retail industry, the journey so far, among other issues. Excerpted
By Fatima Binta Muktar
What is your view about Mall for Africa and the concept behind it?
Mall for Africa is really an application or platform that allows users to shop from U.S, U.K, and Chinese websites from Africa. People from Africa have always had a hard time accessing and buying products from the U.S, U.K. Their stores don't ship to Africa for many reasons. I want Africans to experience true e-commerce, where there are no barriers, no boundaries, that constant flow of products from one continent to the other. That is why I started Mall for Africa, to give Africa the other products they wanted but were unable to purchase.
Your background is technology, what prompted you into retail?
I am in the technology side of retail, my background is definitely with the high-tech, I started a lot of software company and I have been very successful in quite a few startups and owning a software company of my own.
What really intrigued me with this, really came from a personal experience , where I kept going back home. I am from Nigeria originally, and my parents and brother still live there. I go home quite often. People kept asking, can you buy this for me, I got tired of my luggage being 98% other people and 22% mine . I didn't even have enough room in my luggage to pack my own stuff. So, it really came out of a necessity, to reduce my luggage size and I obviously saw a need in the market, could help people purchase products, feeling that gravity or that gap.
How do you think your experience in technology helped to deliver mall for Africa?
My background in technology really supported me to the front stage, because I look at technology and software development, as a means to create products that benefits the end user. so that's what software is suppose to be.
Software is to create something to help you achieve something. For me it was working on all of these platforms, helping fortune 500 companies for over 10 years and solution to fix things and enable things. Just that mindset of how can I fix this problem, people in Africa want to buy products from U.K stores, U.S, how can I fix these problems not just for these companies but for my people? I would say they are not that different, people will think, it might be unique in some sense, but they are not, you know Africans are heavily influenced by Pop-culture, TV, social media and all that from the States and from the Europe.
They get the GQ magazine's, they look at the same popstars, artiste on TV, see what they are wearing.
They know the brands really well, they want to associate themselves with those brands.They want to be part of that, so their buying patterns is very similar with the average American who wants to buy something from the store.
So, it's pretty similar, so much surprising, people buy almost everything, we have done the analysis.
How is the need for the African shopper different?
They are not that different, people might think they might be unique in some sort but they are not.
I would like to say Mall for Africa is the only platform, but with every good idea is a competition, and competition makes you stronger and better. Not doing what we do but there so many e-commerce. Before we started, there were major, hit the country like Jumia, Konga. Every country is doing something unique, and interesting. What we see, the more e-commerce that are popping up. People are more comfortable shopping online, and they don't feel that hesitation and anxiety of would they steal my card.
What are the difficulties of working with a mobile platform, are the problems specific to Africa's market or global?
More specific to the African markets we have seen. What we do is 70% and 30% is regular pieces. It's a huge market, so we had to develop our app to work on IOS and the Android platform. It is the effective way, it is simple and easy to use, we have learnt a lot about users, that whole experience and the ease in which people, want to shop, they don't want to go all around the place.They want to go to this particular site to shop something specific. We have made the shopping experience seamless as possible. Quick as possible, so we have optimised our graphics, access our very first mobile apps, five to six clicks to. Now, we are down to two clicks to complete a purchase.The changes we have done with the mobile app has been significant overtime.
From your launch in Nigeria, you deliver to over 17 other African countries, what can you say has been the challenges?
Marketing is tough for countries you don't know. Trying to get people understand you and understand your products. When you go into a country, people don't know who you are, so you have to educate the market.
After you educate the market, then you have to build trust, nobody wil buy a product from you until they trust you.
Don't expect too much from people. But you're right there telling people who you are. You build trust by connecting and associating with either a company or type of facility that evokes trust. It could be with the religious organization, bank or logistics service like DHL. After trust, then expect a purchase after that. And every country is different, on how you educate the customers, about who you are, who they see as a trust worthy source, to get information from in order to trust you before making a purchase is different from country to country. So, you try to figure it out from place to place. For example in Nigeria, a billboard is one amazing way to educate everybody and build trust, who is going to spend thousands of dollars for something not legitimate, but in Kenya it is the newspaper advert.
What would your social marketing be like in a maturing market?
Facebook is the way to go when it comes to social media and marketing for the entire continent. For what we do is Facebook number one, Instagram number two, and twitter will be number three. We have been doing a lot of LinkedIn. Also we do reach targeted market, but Facebook, we found the best.
What practice do you have to consider when moving into a new territory?
The very first thing we look at is the political stability in a country, is there any issue in that country? We have to be mindful of. The next box we look at is with imports. Are there standard import rules and regulations we have to follow? So we prefer countries that have nice rules and regulations. So we don't have issue importing anything.
Next, is their Internet penetration, is it cheap to get online? How many people have access to getting online with their mobile phones? Where can they get online? Most of the answers from Africa is yes.
You have been into U.S products, now also Chinese products, what made you go into that?
Our customers made us do that one. 100% our customers. They were asking for more Chinese products, is there anything you can do to access more Chinese market? And our response was, yes , after two years of customers asking for that. And we just recently launched that few months ago. It's doing well, it's a different market so we are tapping into a User base that wants product directly from China and not necessarily from U.S, U.K and the products are way cheaper about 70% ,there's a market for that, shoes that are $8, $9, t-shirts that are $2 and dresses that are $4. Buying from China gives access to people who want such products.
What are the risk you've had in trading with the continent and how do you overcome them?
We would have the same problems the retailers have and we have to solve each problem, In starting Mall for Africa, we spoke to lots of retailers, in the beginning, it was like an offence. We are not scammers, we are not bad people. We like a product, we send you money. You ship to us. The big thing is fraud. We are concerned about people using cards that are not theirs, our system doesn't allow you to use foreign credit cards. So, fraud was the big one. In order to counter that, what we did was to make sure we did something that had never been done before in the software retail industry; it is that we guaranteed our merchants zero fraud by letting them know, whenever we buy products, we buy as Mall for Africa, so we are the purchaser on record and the buyer who's in Nigeria pays us. And we pay the merchants. That's how we took care of the fraud case. You don't have to worry about fraud.
What about shipping Challenges?
Ship it to our warehouse in the U.S, U.K, and China. We would take care and take full responsibility of the product, once it gets to our warehouse. We have processes and procedures to know exactly who that product belongs to? Where in Africa is it going to? When? Our very strong partner is DHL, where our customer can track it. We also have other shipping means to get products to customers. Also, the customer service, the language barrier in Africa. Don't worry, we would take care of that. When the customers have any issue they dial our local number. We have people who speak local languages, so that is how we have gotten the retailers to take care of it.
What made you to expand in that way and your biggest challenges in that business?
MarketplaceAfrica.com is what I call the return ticket, we have always been known to bring items from overseas to Africa, now bringing items out of Africa and bringing them into the Europe, and U.S. It is our way of giving back to the continent and I will pretty much step in, and put in much for Africa. Its our time to shine in a platform. To say look, we are Africans, we will make sure we show the world what we have to offer. It is on the space for everybody to see, and if you have any doubt, everything is shipped with a tracking number, so don't think you're going to get scammed. We are here to stay, and we want to prove ourselves to the world. We have a lot of good and we just want to show you. Its all about creating a platform for showcasing African artisans, African products and our way of giving back and getting people around the world to see how amazing, our products, designers are from clothes, to Jewelries, handbags, shoes.
What's the next step for marketplace Africa?
We are on a journey to expand through out Africa; we are not there yet, we would get there slowly, but we are doing it the right way and making it happen. Market place Africa is truly the next place to expand throughout the continent. Get people who make amazing products, get them up to a place where they can shine on our platform.
It.s a long journey, but at some point we would be showcasing the entire continent. Same with Mall for Africa, we want to dominate the entire continent.