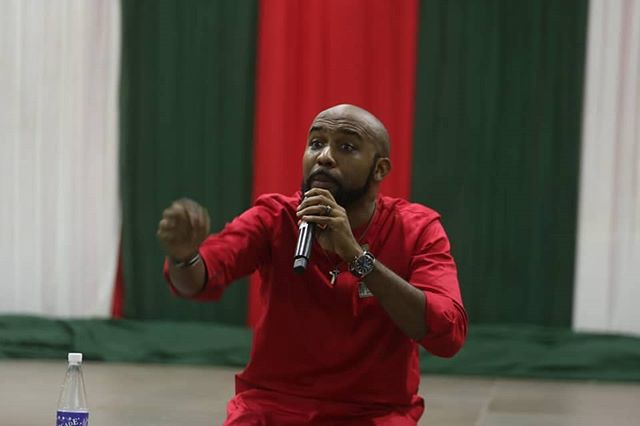 By Jennifer Okundia
With barely two weeks to the 2019 elections in Nigeria, flag bearers for various parties have tightened their seat belts even harder, leaving no stone unturned. One of such is musician and politician Olubankole Wellington popular as Banky W who is a Modern Democratic Party candidate for the Federal House of Representatives under the Eti-Osa constituency.
A very passionate Banky who is affirmative beyond reasonable doubt that he can emerge winner in this political race, organised a town hall meeting on thursday evening at the Maye Hall, Le Real Hotel in VGC Lagos to discuss prevalent issues in his constituency and answer questions on the minds of people.
Read the excerpts from our interview:
PMNews asked Banky W how effective social media is in political campaign. He said:
"How effective is a business card? it depends right? give it to somebody, somebody will take it and be like oh, this is what this guy does… this is somebody that i want to deal with. Some people will take the business card and throw it away. Not everybody that's on social media has a pvc because if that was the case i will win this thing in a landslide, i will not even leave my house, we'll just use social media but that's not the reality of the situation, a lot of our young people who are on twitter and on Instagram, that's where they go to let their voice be heard and that's very serious but to me social media is an important tool, it's not the whole package but it's important to use it to get your message across, to use it as a business card and that's what we are doing, we're not depending on Instagram vote or Twitter, INEC doesn't count tweets or repost or likes or comments but it's important because that is where our generation is, most of the young people in this community are on social media, so if we are trying to talk to them, we must be there to communicate the message and the vision and the mission… but is it going to guarantee us a win in the election absolutely not. i mean this same young people that we are discussing, the worst turnout in elections is still our generation, you see 22 million students are registered voters has any president ever won a presidential election with more than 15, 16 million votes ever? so that's the reality of the situation but again it's about all the things that we talked about, about getting this generation to wake up, pay attention and participate".
PMNews also inquired about his view on political campaign and ambition and he had this to say:
"Now my view on political ambition… I mean you can see what my view is, I'm running for office, I think that's my view okay, thank you very much".
Some of the guests who attended the meeting include: Osas Ajibade, IK Osakioduwa, Akah Nnani amongst other friends, family and supporters.
Photo by Ayodele Efunla

Load more