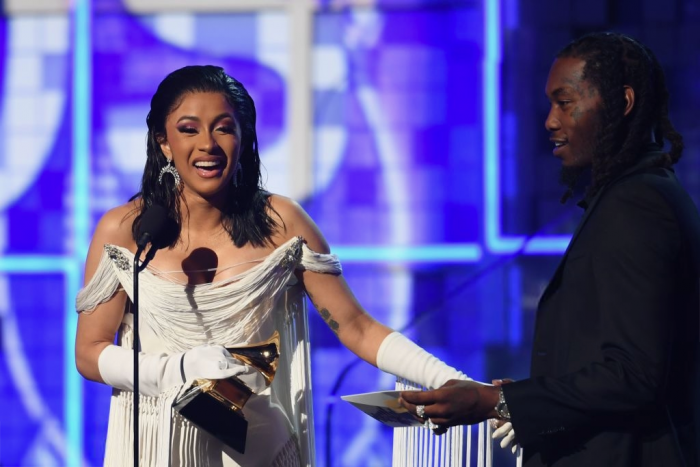 Jennifer Okundia
2019 Grammys held late Sunday night at the staples centre in Los Angeles with music's big shots in attendance to celebrate the past year's biggest albums, and artists nominated for different awards.
U.S rapper Cardi B won Best Rap Album for her Invasion Of Privacy album. The mom of one was nominated alongside Travis Scott – ASTROWORLD, Mac Miller – Swimming, Victory Lap — Nipsey Hussl and Pusha T for Daytona.
Although Cardi B has said a thousand thank you in a video on social media for her award, Nigerians reacted stating that Cardi has more Grammy awards than Nicki Minaj, Fela, TuPac, J Cole, Nas, Snoop Dogg, Bob Marley and Biggie put together.
So Cardi B has more grammys than Nicki Minaj, J. Cole, Nas, Snoop Dogg, Tupac, Biggie, Fela and Bob Marley put together.#Grammys2019 pic.twitter.com/joEhNsFZtW

— Omoniyi Israel (@omoissyy) February 11, 2019
Which rapper do you prefer?

RT for Nicki Minaj
Like for Cardi B pic.twitter.com/bNevNDM3YD

— Omoniyi Israel (@omoissyy) February 11, 2019
https://twitter.com/DrOlufunmilayo/status/1094865869329625088
Cardi B is sharing her #GRAMMY with Mac Miller 🙏pic.twitter.com/J6SJW7VTSx

— Complex (@Complex) February 11, 2019
https://twitter.com/Thiss_Henri/status/1094854194157240320
If you have a problem Cardi B winning a Grammy ahead of Nicki Minaj, listen to what Drake had to say #GRAMMYs pic.twitter.com/MFDnKjNyUG

— Pye Waw (@pyewaw) February 11, 2019
https://twitter.com/moyeongi/status/1094836372848832520
Cardi B truly represents the American dream. Think about where she was six or seven years ago and now she's won a Grammy. Biopic material. https://t.co/GtSajfOrMK

— Jemele Hill (@jemelehill) February 11, 2019
In a year where rap greats like Eminem, lil Wayne, jcole, drake and even Nicky Minaj all released albums. Cardi B still won rap album of the year . Who is the queen now #GrammyAwards #Cardi pic.twitter.com/Yo2GakyQC2

— chibugo naomi (@chibytez) February 11, 2019
https://twitter.com/LadyGagaNowNet/status/1094903884118581248
Load more