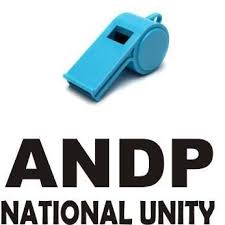 Governorship candidate of the Advanced National Democratic Party (ANDP) in Lagos State, Dr. Olusegun Musa has vowed to eradicate poverty in the state if elected governor on March 2.
The renowned security and maritime expert added that the high rate of crime in the nooks and crannies of the 20 local government areas and 37 local council development areas.
Dr. Musa said the APC government in Lagos had in the last 20 years subjected Lagosians to a high level of poverty which had led to increase rate of crimes and banditry.
The ANDP chieftain said he decamped from APC to his current party, because the government of Akinwunmi Ambode and other past regimes failed to ameliorate the sufferings of the masses.
"They failed to provide jobs, tackle insecurity challenges and to utilize the enormous resources to transform the state to a Mega City," he said.
According to Dr. Musa, currently there is door to door poverty across Lagos State. "If I am elected governor I will re-position state by making agriculture, education, healthcare, housing entertainment, tourism, sports and security priorities.
On how he will combat crimes across the state, the security expert promised to inaugurate a security outfit to be known as Instant Range on Crimes (I.R.C) with the responsibility of eradicating all form of crimes and criminals across the 57 local government areas of the state, stressing that the I.R.C. will patrol the rural and urban areas to fish out all criminal elements.
Speaking on how Lagos can achieve mega city status the ANDP stalwart said his government will reposition the state economy by providing modern infrastructures, "tax holiday for would-be foreign investors security, sports entertainment and tourism." These, he said, will transform Lagos to become like Dubai, USA Europe and UK as investment hub of Nigeria.
On how he would improve the state Internally Generated Revenue (IGR), Dr. Musa explained that currently Lagos generates N35 billion monthly which he said is not enough to meet the infrastructural needs of the people but promised to increase the IGR to N100 billion monthly through green and blue economy including E-government to curb corruption.
Speaking on how he would develop the entertainment industry, he said the ANDP government will establish Nollywood headquarters at Ejigbo and moves industries in Ikorodu, Epe and Badagry, stressing that this will boost revenue generation, jobs creation and attraction of direct foreign investments.
Dr. Musa lamented that the APC government has failed in the areas of provision of quality education, health and infrastructure, stressing that if elected governor, education will be free and compulsory from primary to secondary levels review of schools curriculum while school fess in tertiary institutions will be reduced by 50 percent to ensure that every citizen is educated.
The ANDP guber candidate who expressed confidence of winning the March 2 2019 governorship election, said Lagosians have lost confidence in the APC-led government and they are yearning for genuine changes but he agreed that Lagos is working and not running adding that Lagos must run in order to achieve the status of a mega city.
To eradicate the problem of housing, Dr. Musa said his government will build both high and low income houses for the people on a long term basis to ensure that every Lagosians have access to affordable houses, stressing that the houses will be built on Private Public Participation (PPP) scheme.
While condemning vote buying by politicians, Dr. Musa advised the electorate to collect their money and vote according to their conscience. He warned opposition political parties planning to rig the general election to rescind their decision. He advisedg politicians to embark on issues-based campaign instead of hate speeches and uses of abusive languages.
He further reiterated that all the 57 local government areas will oversee the functions of environmental sanitation to ensure cleanliness and beautiful environment, water transportation will also be given a boost and decongestion of Apapa Port.
Dr. Musa said the Teslim Balogun Stadium will be renovated rapid sports development, youth employment recreation and creation of enabling environment for foreign sports competitions. Meanwhile the gubernatorial candidate has advised the federal government to convert Sambisa forest to agricultural and tourism haven in order to create jobs and to generate huge revenue for the government.
Dr. Musa said the Sambisa forest is a large fertile land that the government should not allow to waste away.
The A.N.D.P guber hopeful said the federal government has not done enough to curtail the high level of insecurity across the country.

Load more