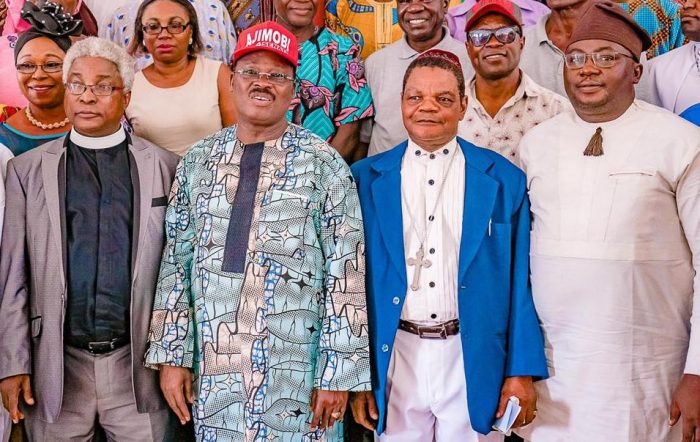 Gbenro Adesina/Ibadan
The Oyo State chapter of the Christian Association of Nigeria, CAN, has said that it is supporting the Oyo South Senatorial District candidate of the All Progressives Congress, APC, Governor Abiola Ajimobi, with prayers to realize his ambition.
The association further said it has accepted the nomination of the APC governorship candidate, Chief Adebayo Adelabu, and that members were also praying for him in his quest to succeed Ajimobi.
The State Chairman of CAN, Pastor Benjamin Akanmu, said this when the governor led top leaders of the APC and government officials to the association's secretariat to seek members support ahead of the coming general elections.
Ajimobi had also led the party's road show and campaign trail around Ibadan, with stopovers at Dugbe, Ogunpa, Amunigun, Agbeni, Beere, Ijokodo and Awotan, where he met the Igede, Benue, Community leader, Chief Monday Onda, to seek his people's support.
The APC team, which included its National Vice-Chairman, South West, Chief Pius Akinyelure; and the Deputy Governor, Chief Moses Adeyemo, was received by the executive council of CAN and representatives across the state's 33 Local Governments.
The CAN chairman used the moment to appreciate Ajimobi for supporting the Christian body over the years, despite being a Muslim.
He said that the association would forever be grateful to the governor for presenting a coaster bus for the use of members, assistance towards the completion of its state secretariat and sponsorship of members to Jerusalem, among other gestures.
Akanmu said, "We have been supporting Senator Abiola Ajimobi since he won as executive governor of Oyo State in 2011. He has presented his successor to the general people of Oyo State, the successor is acceptable. We are praying for him that God will see him through. We are also praying for the governor to realize his ambition to return to the Senate. The Christian leadership in Oyo State has overcome political apathy, because such position will not favour the development of the people in general. So, we have been encouraging our members not to be aloof to politics".
Responding, the governor said that he visited the CAN secretariat to present Adelabu and to solicit the support of the association for the governorship candidate and his own senatorial ambition.
He explained that he was not in the Senate race for personal aggrandizement, but in deference to the clarion call of eminent citizens and leaders of the APC who persuaded him to run in the larger interest of the state.
Ajimobi urged CAN members and the state's electorate to pitch their tent with the APC in the coming election to enhance the sustenance of his legacy projects.