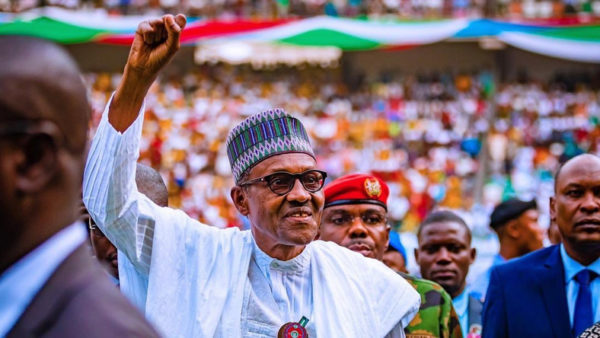 By Kazeem Ugbodaga
President Muhammadu Buhari has won election in 14 of the 17 Local Government Areas of Lagos State so far announced by the Independent National Electoral Commission, INEC.
Three more Local Governments are yet to be announced.
So far, Buhari has garnered 470,785 in 17 LGs in Lagos, while Atiku Abubakar polled 337,272.
So far, Buhari is leading Atiku with 133,513 votes in Lagos.
Results at a glance
Apapa Local LG
APC-18,170
PDP-11,295
Ikorodu LG
APC: 40,719
PDP: 21,252
Ibeju/Lekki LG
APC: 12,179
PDP: 9,222
Lagos lsland LG
APC: 27,452
PDP: 7,396
Epe LG
APC: 17,710
PDP: 13,305
Ikeja LGA
APC: 23,638
PDP: 21,518
Badagry LG
APC: 21,417
PDP: 17,936
Agege LG
APC: 36,443
PDP: 16,497
ETI-OSA LG
APC: 20,963
PDP: 25,216
Ifako Ijaiye LG
APC: 33,419
PDP: 18,100
AAC: 674
Mushin LG
APC: 43,543
PDP: 20,277
Oshodi/lsolo LG
APC: 29,860
PDP: 28,806
Lagos Mainland LG
APC: 22,684
PDP: 15,137
Ojo LG
APC: 24,333
PDP: 29,019
Surulere LG
APC: 30,621
PDP: 31,603
Somolu LG
APC: 28,418
PDP: 21,978
Kosofe LG
APC : 39,216
PDP:  28,715