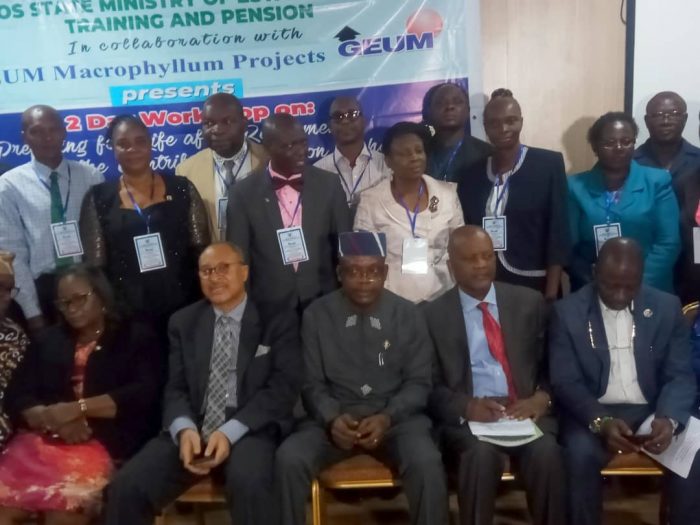 Lagos State Governor, Akinwunmi Ambode and economist, Professor Pat Utomi, have charged senior civil servants to prepare for life after retirement.
They spoke at a two-day training for directors and top civil servants nearing their retirement in Ikeja, Lagos, Southwest Nigeria on Tuesday.
Speaking at the event, Ambode said the intending retirees were being trained on how to prepare for life after retirement, especially on the implementation of the Contributory Pension Scheme, CPS.
The governor assured the workers that the Lagos State Government through the Ministry of Establishments, Training and Pensions and LASPEC would continue to ensure that public service retirees not only get what was due to them statutorily, but also continue to receive, through other agencies and programmes further and additional support and assistance that would add value to their lives in retirement.
He said his administration was committed to the implementation of the Pension Reform Act of 2014, which was first passed as the Pension Reform Act of 2004.
Ambode, who was represented by the Commissioner for Establishments, Training and Pensions, Dr. Benson Oke, stressed the need to prioritise pensioners' welfare, adding that "it has both moral, economic, strategic and social ramifications".
The governor added that the training was designed to ensure that all public servants, especially those who were nearing retirement were trained on an on-going basis of the implications of the laws and regulations relating to the Contributory Pension Scheme with a view to ensuring that they could adequately prepare for the future.
"The main objectives of the Lagos State Pension Reform Law are: to assist all persons in the employment of the State Government to save towards their retirement and as well ensure that persons who leave or retire from the public service of the state receive their terminal or retirement benefits as and when due", he said.
Speaking, the facilitator, Utomi, commended Lagos State Government for the training, saying it is of great importance for every civil and public servant to have adequate preparation for retirement so as to plan well and effectively when out of service.
He said the Contributory Pension Scheme had made it easy for civil servants to plan for their future, charging them to utilise their earnings judiciously for a better future.
Permanent Secretary, Office of Establishments and Training, Rhoda Ayinde, said Lagos State Government was so passionate about its workers, which necessitated such training on preparation for retirement so as to right the wrongs and prepare for the future.
"The State Government don't want any of its workers to agonise, hence the training. We all know what retirement is all about, that is why the state government wants us to have enough training before we retire so that we can prepare adequately", she said.