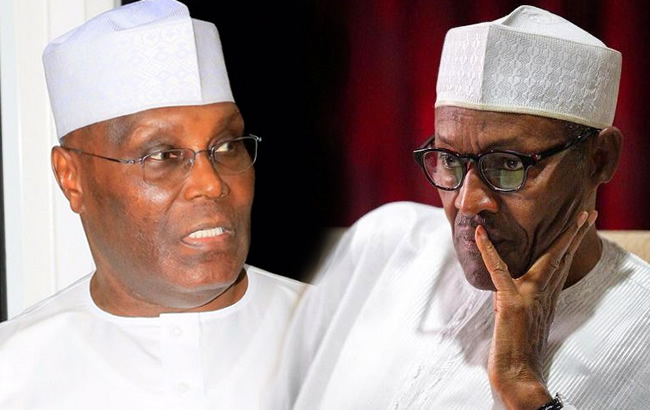 The Independent National Electoral Commission(INEC), has declared President Muhammadu Buhari of All Progressives Congress(APC), as the winner of the presidential poll in Bauchi state having polled 798,428 votes.
INEC Collation Officer, Prof. Alhassan Ghani disclosed this at INEC National Collation Centre in Abuja on Tuesday.
Ghani also Chancellor of the Federal University, Kashere (FUK), Gombe state said Atiku Abubakar of Peoples Democratic Party (PDP), scored 209,313 votes to place second.
He said the state had 2,453,512 registered voters, out of which, 1,075,330 were accredited for the election.
Ghani added that a total of 1,061,955 votes were cast, out of which Buhari scored 798,428 votes, while Atiku scored 209,313 votes.
According to him, a total of 1,024,307 valid votes and 37,648 invalid votes were recorded during the election.
Meanwhile, INEC has declared Atiku Abubakar of the PDP winner in six Local Government Areas (LGAs of Bayelsa.
INEC Returning Office, Prof. Zana Akpagbo, announced on Tuesday in Yenagoa that Atiku polled a total of 197, 933 votes to beat Buhari of APC who polled 118, 82 votes.
"From the eight LGAs in Bayelsa, we have a total valid votes of 321, 767, total accredited voters, 344, 237, votes cast, 335, 856 and rejected votes are 14, 089.
"Total registered voters are 923, 189," Akpagbo announced.
The News Agency of Nigeria (NAN) reports that out of the eight LGAs in the state, Buhari won in two -Nembe and Southern Ijaw.
Atiku won in six LGAs -Brass, Ogbia, Yenagoa, Kolokuma/Opokuma, Sagbama, and Ekeremor.