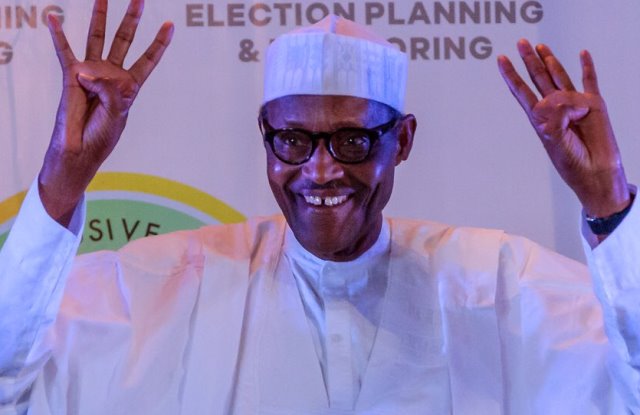 The Independent National Electoral Commission (INEC) on Tuesday, declared President Muhammadu Buhari of All Progressives Congress (APC), winner of Saturday's presidential election in Lagos state.
Collation Officer for the election, Prof. Felix Salako, announced the result at the National Collation Centre in Abuja, said that Buhari polled 580, 825 votes to defeat his opponents.
He said that Peoples Democratic Party (PDP)'s Atiku Abubakar, scored 448, 015 votes, while Mr Omoyele Sowore of African Action Congress (AAC) got 8, 910 votes to come out in the third position.
According to him, Obadiah Mailafia of African Democratic Congress (ADC) scored 2, 915 votes, Yabagi Yusuf of African Democratic Party (ADP) polled 1, 262 votes and Donald Duke of Social Democratic Party (SDP), 770 votes.
He said that total registered voters in Lagos was 6, 313, 507 out of which 1,196, 490 were accredited.
The collation officer announced that total votes cast in the poll stood at 1,156,590, with 67, 023 votes rejected.
"A total of 188 polling units votes were cancelled for various reasons, ranging from violence to ballot-snatching which affected 141, 256 votes across the 20 local government areas in the state,'' he said.
Similarly, INEC also announced that Alhaji Atiku Abubakar of Peoples Democratic Party (PDP) won the election in Edo.
According to Prof. Ndowa Lale, the Collation Officer for the state at the National Collation Centre, Abuja Abubakar polled 275,691 votes to defeat his All Progressive Congress (APC) opponent, Muhammadu Buhari, who scored 267,691 votes.
Lale said that the state had 2,150,127 registered voters and that 604,915 of them were accredited for the election.
He added that the state recorded 599,228 cast votes, with 560,711 valid and 38,517 rejected.