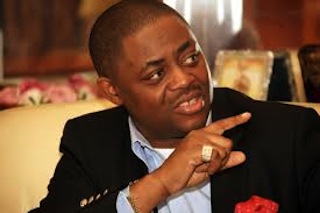 Lanre Babalola
Former aviation minister Femi Fani-Kayode has asked the presidential candidate of the Peoples Democratic Party (PDP) Alhaji Atiku Abubakar to reject the results of the presidential election announced by the Independent National Electoral Commission (INEC) and call for a civil disobedience.
In his tweets on Tuesday, Fani-Kayode described the election as a charade and urged Atiku to release the authentic results submitted by PDP agents nationwide.
He also called on Atiku to give the Federal Government an ultimatum to announce the authentic results.
Read his tweets below:
"The election was a charade! @atiku should now brace up to defend the choice of millions of Nigerians who risked their lives on Saturday,defied tyranny and oppression and spoke through the ballot!He must reject the results and give the FG an ultimatum to declare the authentic…
…results,failure of which he will form a Govt. and order civil disobedience throughout the nation!If this charade is allowed to stand,the country is finished! Then the authentic results collated by PDP from the 119,000 PUs must be released to the public and the int. community!" Fani-Kayode tweeted.