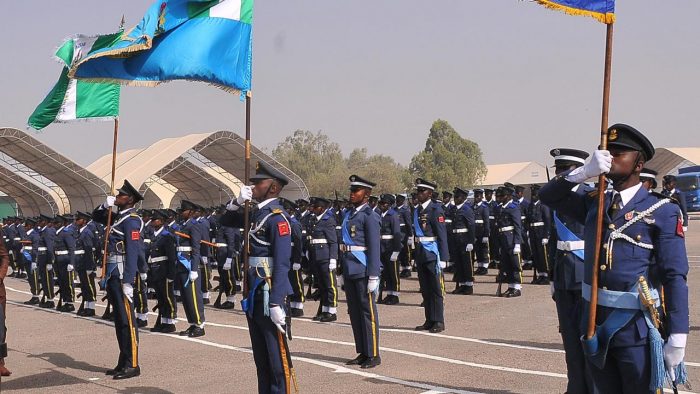 The Air Traffic Service Training Center of the Nigeria Air Force (NAF), on Thursday, graduated 13 Air Traffic Controllers in Kaduna.
The graduating students had undergone training for six months at the centre in Kaduna.
Speaking at the ceremony, AVM Muhammad Sulaiman, the Air Officer Commanding (AOC) Air Training Command, said the occasion was another milestone in the drive toward self-sufficiency in local training needs of the service.
According to him, NAF is making concerted efforts toward the continued development of the institution into a hub of excellence in Air Traffic Services human capacity development.
He said the benefit was not only for the NAF but for the nation as a whole.
"The need for quality Air Traffic Services personnel in an air operations environment cannot be overemphasised.
"Training, as we all know, has remained a major agent of transformation over time.
"No wonder it is one of the key drivers of the Chief of the Air Staff's Vision which is to reposition the NAF into a highly professional and disciplined force through capacity building initiative for effective, efficient and timely employment of air power in response to the Nigeria National Security imperative.
"I believe that the knowledge imparted unto the graduands of this course will go a long way toward improving safety and efficiency in our operational units.
"I, therefore, implore the centre not to rest on its oars but to continuously strive toward improving the course curriculum and making it more relevant to our environment,'' he stressed.
Sulaiman said: "All these training were aimed at giving you the requisite foundation to enable you to discharge your duties as ATCOs.
"I am pleased to inform you that coordination toward your movement to the Nigerian College of Aviation Technology, Zaria is in progress.
"Accordingly, I must emphasise that this is just a foundation that you will be required to build upon through further reading and continuously applying yourselves to assigned responsibilities.
"The field experience that you will subsequently have would no doubt be an indispensable resource for building on the foundation you have acquired in the long run.
"Therefore, as you step into the aviation world proper, take good advantage of the opportunities open to you and work with your instructors, both civil and military as well as your seniors in the field, with a view to building your capacity, acquiring more experience to develop yourselves further."
Sulaiman assured them of a world of opportunities in their chosen speciality and enjoined them to utilise it to make a positive impact in the service and make their families proud.
"I urge you to strive to make your good better and your better best; continuous improvement should be your watchword,'' he added.
Earlier, the Commandant of ATSTC, AVM Haruna Muhammad said the Initial Air Traffic Control Officers Course was conceived and initiated with the primary purpose of imparting knowledge in selected NAF officers.
Mohammad also said the course was important being the basic skills and knowledge required to function effectively as Air Traffic Control Officers (ATCOs) as well as to obtain both military and civil ATC licenses for the purpose of providing Air Traffic Services to both military and civil air operations in Nigeria.
According to him, to achieve this objective, the student officers are required to pass a course of instruction in relevant theoretical subjects as well as undergo several practical sessions to build their capacity.
"Furthermore, the programme is designed to groom the officers to meet the high standard required in the provision of air traffic services to both military and civil air operations in Nigeria,'' he said.

Load more