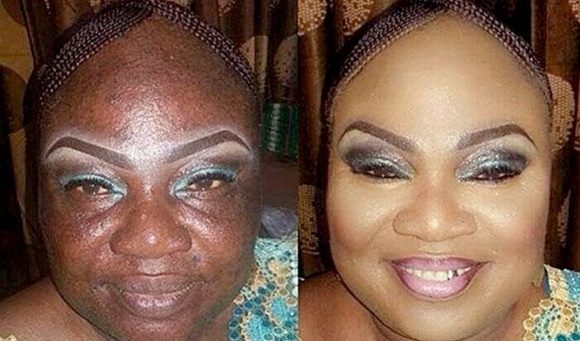 Men living in Abuja, within the Federal Capital Territory (FCT) have described the excessive use of make-up and photo apps on pictures to enhance looks on social media by women as deceitful.
In different interviews on Friday, some of the men said that the use of make-up, even though it accentuates facial looks, could hide blemishes and project beautiful images of ladies, yet was still deceitful.
Mr John Fidelis, a photographer in Asokoro area of Abuja, said that he was in the business of taking pictures, and there were some applications that could enhance picture quality with smartphones.
Fidelis said "With some of these picture editing apps on smartphones, the ugliest woman can appear attractive.
"It is good to enhance your beauty or your look as a woman, but it should not be done to the extreme because too much of everything is bad''.
The photographer said that most women were in the habit of carefully selecting pictures taken in studios, edited with photo apps, before posting them on social media.
Gbenga Alba, a graphic designer condemned the current trend now predominantly seen on social media platforms.
According to Alba, women are not expected to apply make-up every time. They should consider the occasion, either to apply light, heavy make-up or avoid it totally.
"In as much as our women need to be classy and presentable most of the time, there are situations whereby issues can be urgent, she will not need to spend quality time applying make-up.
"I feel that applying the make-up is a waste of time and it doesn't allow prospective husband know the real features of the spouse if they don't have the opportunity of being together before marriage,' he said.
While contradicting the above, Mrs Jecinta Nnamdi, a civil servant said the use of make-up makes her look younger, attractive and presentable.
"There are times when I leave my face bare without make-up people ask me if I am alright or ill that is why I rarely leave my house without make-up," she added.
Similarly, Hauwa Usman, a make-up artist emphasised the need for ladies to apply make-up as it could enhance their beauty, self-esteem and confidence.
Usman went further to say that some of the cosmetics used in applying make-up have contents that protect the skin from the harmful rays of the sun.
"Makeup is used as a beauty aid to help build up the self-esteem and confidence of a person, as well as enhance the appearance and make the person feel more confident.
"Also, recent research shows that make-up helps protect the skin from harmful rays of the sun.
"Many beauty products manufacturers have considered the needs of women to protect themselves and their skin from the rays of the sun," she said.
She, therefore, urged people to stop condemning or criticising women who apply make-up to enhance their looks.
According to her, it is a trend that has come to stay, in addition to creating job opportunities for artists and boosting the confidence of Nigerian womenfolk.

Load more