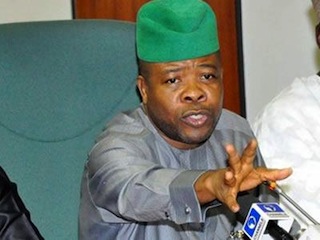 Imo indigenes in Abia under the aegis of Olu Owerri Unity Association, Aba chapter, on Friday declared their support for Emeka Ihedioha, the governorship candidate of the Peoples Democratic Party (PDP) in Imo.
The group, along with other town unions of Imo people in Abia, described Ihedioha as the best candidate with the prospect to provide good governance for the people.
Speaking at a rally, organised in Aba to endorse the candidate, the President of the group, Mr Edmund Anyanwu, described Ihedioha as the best governorship candidate in the race.
Anyanwu said that the candidate possessed the character, requisite knowledge and integrity to rebuild Imo.
He said that Ihedioha, having represented his people in different positions, including being the Deputy Speaker of the House of Representatives, attracted a lot of projects to his area.
Anyanwu said: "He knows a lot of people and a lot of people know him. There are people who held similar positions but you only hear about their performance on radio and television.
"But in his own case, Ihedioha has toured all the communities in his constituency and Imo. There are many vying with him who we have not seen in any other place except Owerri, the state capital, and their own locality. This is why we believe that among the lot, he is he best."
Anyanwu said that Imo indigenes had the confidence that Ihedioha would transform the state, if given the mandate, considering his exposure and zeal.
"In addition, his Owerri zone is due to produce Imo's next governor." he said.
In his remarks, Ihedioha said he would provide purposeful leadership that would lift the people from the ruins.
He said that the past seven years "maladministration" of Gov. Rochas Okorocha had destroyed the good foundation laid by the founding fathers of the state.
He promised to grow the state's economy through functional education, rapid industrialisation, entrepreneurship, skills development and innovative technologies.
Ihedioha further promised to introduce due process, openness, transparency and accountability in the conduct of government business.
He therefore appealed to the people to rally support toward the realisation of his governorship ambition by voting massively for him on March 9.

Load more