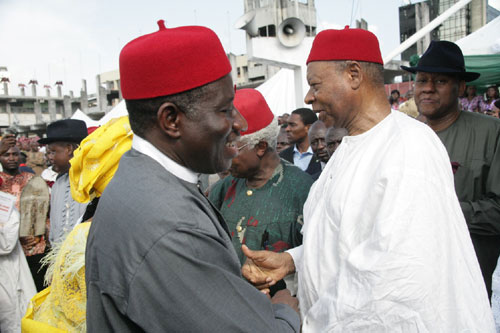 Chief Arthur Mbanefo, the former Nigerian Permanent Representative to the United Nations, on Thursday urged educated Nigerians especially those in the academia to write textbooks to support learning in their respective fields.
Mbanefo said this while giving his opening remarks at the launch of a book titled, 'Handbook of Arbitration and Alternative Dispute Resolution (ADR) Practice in Nigeria'.
The book was launched at the Nigerian Institute of International Affairs, at Kofo Abayomi Street, Victoria Island, Lagos.
The book was written by two authors, former Attorney General of Nigeria, Mr Bayo Ojo (SAN) and Mrs Tinuade Oyekunle, both who were described as the first and second chartered arbitrators in Nigeria.
Mbanefo said the handbook "is such book intended to project Nigerian application of relevant laws and jurisprudence.
"The importance of this book becomes clear when one considers the current growth in the practice of commercial arbitration and ADR in Nigeria.
"Educated Nigerians particularly those in the academia have consistently shied away from writing books especially text books to support the subject they profess.
"The result is that it has become rare to find textbooks in matters of noble and international applications to document the Nigerian experience and relevance," he said.
He, therefore, commended the authors for their contributions in the education and knowledge of ADR by documenting it in a book.
Mbanefo said that the National Education Policy should stress the need to write more books.
"I recommend that this book be adopted by all institutions of legal studies and practice in Nigeria as a standard text book for arbitration and ADR practice in Nigeria as well as a useful book for reference purposes," Mbanefo said.
Prof. Paul Idornigie (SAN), while reviewing the book said that the title of the book had been a subject of debate among academics.
"There is a huge debate among academics, practitioners and users of ADR as to whether arbitration is part of ADR," he said

Load more