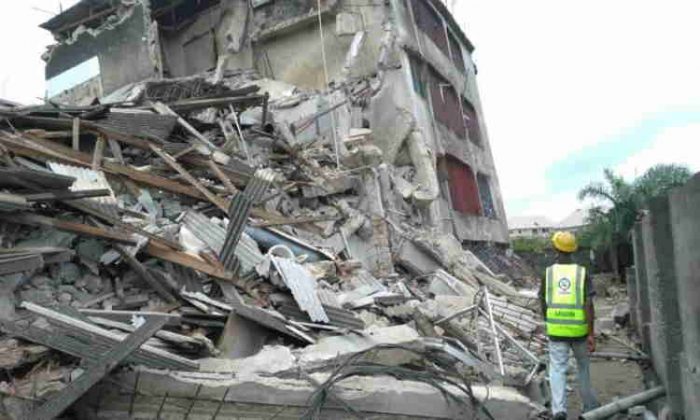 The Nigerian Institute of Architects (NIA) and Architect Registration Council of Nigeria (ARCON) have called on Abia Government to investigate the causes of collapsed buildings in the state.
The Abia Chapters of NIA and ARCON jointly made the call in Aba, during their fact-finding mission to the sites of recent collapsed buildings in the state on Saturday.
The associations spoke through the state chairman of NIA, Mr Ikechi Ochulo and Mr Dan Nwnkwo, representative of ARCON.
Ochulo said that the call was necessitated by the spate of building collapses recently recorded in Aba, which claimed some lives and injured others.
He said that the fact-finding mission had taken the associations to the Town Planning Authorities of Aba South, Aba North and Osisioma Local Government Areas.
He said the mission was aimed at ascertaining the authenticity of the architects involved in the collapsed building and how they got their building approvals.
Ochulo urged the state government to investigate the development and give punishments to builders who cut corners during construction.
He expressed concern over activities of quacks in the state and wondered how they succeed claiming to be architects, getting their drawings approved by Town Planning Authorities without licence and seal of approval as stipulated by the law governing the profession.
"We have a situation of when collapses happen in this state, no panel, no investigation takes place.
"On the part of government, no panel of investigation is set up for culprits to be brought to book so that others will learn.
"That's why we plead with the government not to sweep these recent incidents under the carpet like the previous ones. Things must be done properly to help everyone.
"We have procedures for checkmating this evil. ARCON has made provisions that before Town Planners approve any drawing, they must see the seal of a registered and licenced architect.
"There's a security stamp we put on the drawing of every true professional architect, "he said.
He, however, regretted that the drawings of the collapsed buildings which they saw at the Town Planning Office had none of all these things.

Load more