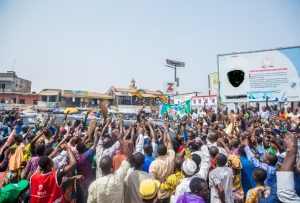 Mr Raphael Adetiba, the Kwara State House of Assembly candidate of the All Progressive Congress (APC), has called on the people of the state to vote for the party again on March 9.
Adetiba made the appeal while speaking with the News Agency of Nigeria (NAN) on Sunday in Abuja
Adetiba,who is seeking to represent Oke-ero Local Government in the state house of assembly, also urged the people to vote massively for the governorship and other candidates of the party during the elections.
He commended the people of the state for delivering all the six House of Representatives and three Senate seats in the state to the APC.
He said that such feat should be repeated in the governorship and state house of assembly elections, stressing that the party would reciprocate the gesture.
The candidate, then, appealed to the people of his constituency to support the APC, adding that Oke-ero could not afford to be in the opposition in the state.
Adetiba said he was making the call because Oke-ero was the only local government won by the Peoples Democratic Party (PDP) on Feb. 23 out of the 16 local governments in the state.

Load more