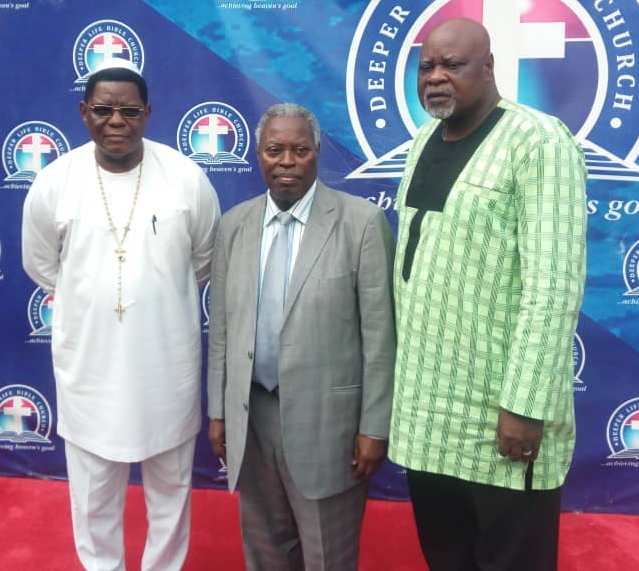 By Kazeem Ugbodaga
General Superintendent, Deeper Christian Life Ministry, Pastor William Kumuyi is teaming up with the Christian Association of Nigeria, CAN, and the Pentecostal Fellowship of Nigeria, PFN, to mobilise thousands of pastors in Lagos State for  ministers' summit.
The programme, tagged: "Ministers Development and Networking Summit," with the theme: "Building the Builders," is being convened by Kumuyi in partnership with CAN and PFN, and will hold on Wednesday, March 27, 2019 at the headquarters of the Deeper Life Bible Church, Gbagada, Lagos.
At a joint news conference on Tuesday in Gbagada, addressed by CAN Chairman, Lagos State, Apostle Alexander Bamgbola, and the Chairman of PFN, Bishop Sola Ore, the church leaders said the summit would provide an opportunity for Christians to learn from each other.
According to Bamgbola, "Church ministry is a most responsible work for which no amount of conventional education can sufficiently prepare the minister. The minister's training is an ongoing experience and he stands to gain a lot from God through others who have trod the path he is treading.
"Again, by comparing notes with other ministers and sharing experiences, he gains deeper insight into the work of the ministry and becomes effective and useful to his community. This is why a summit like this promises to be a very refreshing time for ministers."
The CAN chairman said the summit was coming at a time when the body of Christ was in dire need to function synergistically so as to tear down the increasing menacing 'gates of hell' in the land.
"Needless to say that this kind of summit will foster the much needed love and unity in the body of Christ which in turn will create a more enabling environment for meaningful and effective evangelisation.
Bamgbola disclosed that the summit would feature a variety of treats, as there would be seminars, workshops and inspiring messages, plus excellent opportunity for ministerial interface and networking.
He commended Kumuyi for the initiative, saying the man of God had been a unifying force among Christians in Nigeria.
Also speaking, PFN Chairman, Ore said he believed the training would also help to unite the church, stressing that maintaining denominational differences was creating a lot of schism in the body of Christ.
"We believe this summit will provide Christian leaders, pastors, opportunity to experience some personal spiritual renewal. So, we are asking pastors and other children of God to come for this conference. It is not about bringing you to join a particular church. No more denomination barriers!" he stated.

Load more