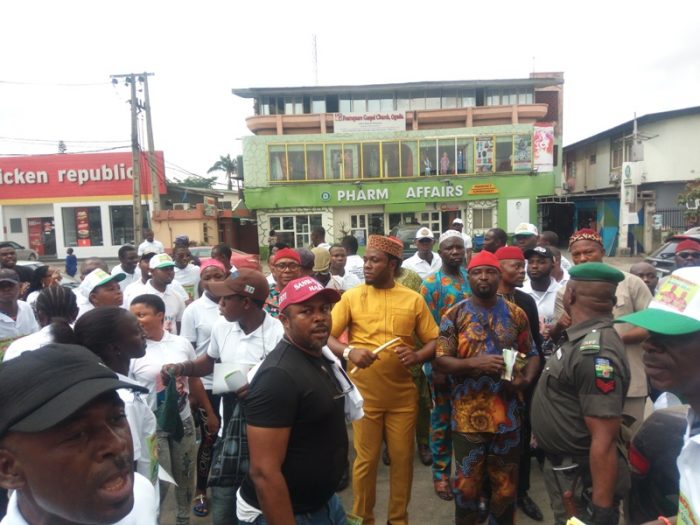 Hundreds of members of the Igbo Movement in Lagos State on Tuesday embarked on a Road Show to campaign and mobilise Igbo traders in the state to vote massively for the All Progressives Congress, APC, Governorship candidate, Babajide Sanwo-Olu in this Saturday's gubernatorial election.
Members of the movement moved through Ogudu to Ojota and to Mile 12 dancing, singing and distributing fliers to Igbo in the areas and sensitised them on the need to vote for Sanwo-Olu and all APC House of Assembly candidates on Saturday.
Convener of the Igbo Movement, Chris Onyekachi, said the essence of the Road Show was to support Sanwo-Olu and ensured that the Igbo in Lagos State vote massively for him in this Saturday's election.
"The essence of this Road Show is that the Igbo Movement in Lagos State is supporting the incoming governor of Lagos State, Babajide Sanwo-Olu, because we believe in the mandate of our leader, Asiwaju Bola Ahmed Tinubu.
"We believe in continuity, that is why all Igbo in Lagos gathered in my house this morning in support of Sanwo-Olu so that by this Saturday, we will vote for the incoming governor and all APC candidates," he said.
Onyekachi added: "You can see all Igbo elders from the 57 LGs and LCDAs in Lagos State are here. We are taking this Road Show to all the markets our people are trading to educate them to come out and vote massively for our incoming governor and all APC candidates.
"The Igbo are fully in support of the APC and what is happening, you can see the crowd yourself."

Load more