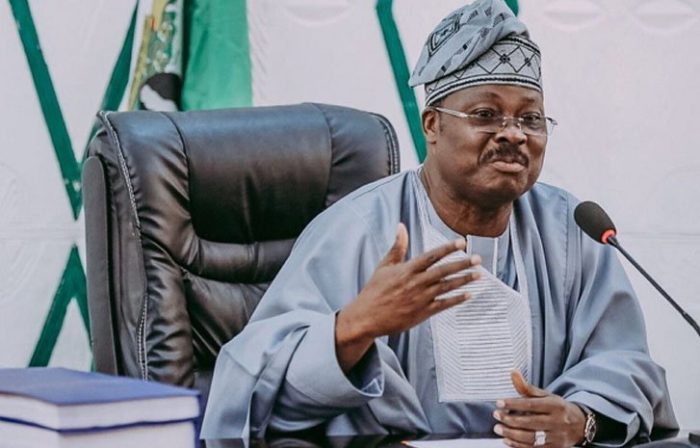 The All Progressives Congress (APC) in Oyo State says People's Democratic Party (PDP)'s allegation that Gov. Abiola Ajimobi intends to cause mayhem during Saturday's election is a figment of the opposition's puerile imagination.
The APC Publicity Secretary in Oyo State, Dr Azeez Olatunde, said this in a statement in Ibadan on Monday.
The PDP in the state had alleged that the APC and Ajimobi were planning to cause unrest during the election using transport union members.
"Our attention has been drawn to an allegation by the PDP that the governor is planning to use fake police and NURTW members to cause unrest in the state.
"We like to state categorically that this allegation is a figment of their puerile imagination and a product of hallucination," the party said.
The APC said that everyone in the state knows that Ajimobi stood for peace and would not trade it for anything.
It said that Nigerians could not forget in a hurry the violent years of PDP and the ruins it caused which was gradually being salvaged by the APC administration of President Muhammadu Buhari.
The APC warned that it would resist election rigging and vote buying plans of the PDP in the gubernatorial election, stating that it won't allow PDP to turn Oyo State into a macro finance bank.
"We wouldn't have responded to PDP hallucinatory statements since the people know the party is synonymous with violence, maladministration, financial recklessness and mudslinging.
"With their rejection by Nigerians in the Feb. 23 election, we assumed that they would have changed their ways.
"But like the saying goes, old habits die hard. The habit of PDP to peddle falsehood is their second nature. Their antics to get to Oyo seat of power will be another futile effort.
"The electorates know them, they know how they ruined the country's economy and perpetrated a lot of violence in Oyo State and across the country," it said.
It said that the peace currently enjoyed in the state was elusive during the ruling years of PDP, saying it is only a party like PDP that would lay the foundation of peace and destroy same with its hands.
The APC said that the present administration in the state was people oriented and has vowed to sustain peace, safety and security that would bring evident development, growth and progress to the state.
It warned the leaders of PDP to steer clear of the state, saying the state's fund could not be used to fund the PDP.

Load more